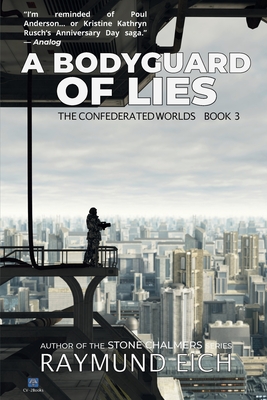 A Bodyguard of Lies
Paperback

* Individual store prices may vary.
Description
"I'm reminded of Poul Anderson's Dominic Flandry series, or more recently, Kristine Kathryn Rusch's Anniversary Day saga."-Analog
Assigned to the halls of power, only Capt. Tomas Neumann can save the Confederated Worlds from the ultimate treachery.
After bold action brings him the favor of the Confederated Worlds' new president, Tomas finds himself in an arena more dangerous than combat: Politics.
Battling assassins, spies, and pervasive surveillance, Tomas discovers a shocking secret. A desperate mission takes him from luxurious temples to secret police brain scanning chambers. Could he prevent the destruction of the Confederated Worlds, or would he die trying?
CV-2 Books, 9780692338384, 268pp.
Publication Date: March 20, 2015
About the Author
Raymund Eich files patent applications, earned a Ph.D., won a national quiz bowl championship, writes science fiction, and affirms Robert Heinlein's dictum that specialization is for insects. In a typical day, he may talk with biochemists, chip designers, patent attorneys, epileptologists, and rocket scientists. Hundreds of papers cite his graduate research on the reactions of nitric oxide with heme proteins. His novels include the first two volumes in the Confederated Worlds series, TAKE THE SHILLING and OPERATION IAGO, and evolutionary psychology hard science fiction novel NEW CALIFORNIA. He lives in Houston with his wife, son, and daughter.