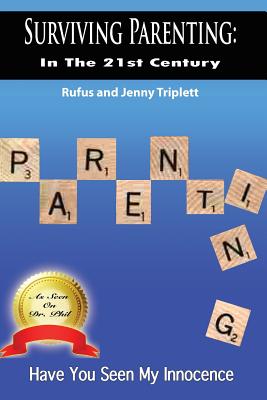 Surviving Parenting in the 21st Century (Paperback)
Have You Seen My Innocence
Dawah International, LLC Publishing, 9780692339114, 66pp.
Publication Date: November 12, 2015
* Individual store prices may vary.
Description
The second release by Rufus and Jenny Triplett, Ebony Magazine's Couple of the Year 2012, is a parenting playbook that deals with the comedy and lessons of raising kids. Included are stories about bullying, driving, cellphones, sibling bickering, peer pressure, teenage pregnancy and so much more. It is full of tips to help guide parents through this crazy matrix of parenting. The Triplett's have raised three boys, with no baby daddies. It's an easy page turner and great read for Teens, Preteens and Tweens. Find more great parenting philosophies - www.rufusandjennytriplett.com.
About the Author
Rufus and Jenny are one of the very few professional husband and wife teams who do just about everything together, while surviving twenty five years of marriage being attached at the hip. Honored as Ebony Magazine's Couple of the Year in 2012, and one of the 14 Most Inspiring Black Couples in 2013, they are known for their motivation, empowerment and healthy examples of happily ever after. Mr. & Mrs. Triplett have traveled extensively and seem to draw attention wherever they appear. With their young look and laid back personalities, they are never far from an intelligent conversation. Their list of accomplishments are long but are highlighted with being military veterans (Marine Corps and Navy respectively) a letter from President Obama, and spotlighted as a Social Media Power Couple by Mashable. The Triplett's co-own Dawah International, LLC, a multimedia company, which published Prisonworld Magazine for seven years, co-hosts of their own weekly radio show, the Prisonworld Radio Hour which airs in podcast and is syndicated to iTunes and tunein. They also have two successful blogs and are requested keynote and session speakers and for various platforms which include corporations, wellness retreats, correctional facilities, non-profit organizations, schools, radio shows and print magazines. Currently airing in a TLC Network special, Rufus and Jenny are celebrated for their rewarding and highly requested marriage workshops that keeps them on the road several weeks out of the year. Their exciting couples travel adventures have benefited in sponsorships and spawned workshops for singles seeking marriage as well. Now adding self-published co-authors and Amazon Best Sellers to their long list of accomplishments, Surviving Marriage In The 21st Century: 13 Easy Tips that Can Help You Get to 20 years and Beyond, released February 2013 under their own imprint, Dawah International, LLC Publishing, is sparking the much needed conversation about marriage and that tips needed to survive the foundation and institution of the family that it has always been.