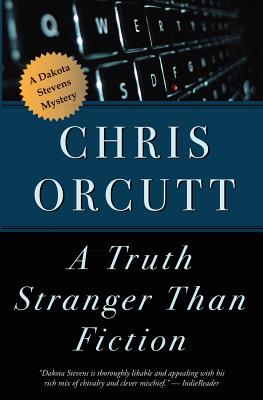 A Truth Stranger Than Fiction (Paperback)
Have Pen, Will Travel, 9780692352571, 396pp.
Publication Date: January 1, 2015
* Individual store prices may vary.
Description
He's BACK. Dakota Stevens. The tough, wisecracking New York private eye. And he's smarter, funnier and sexier than ever. And so is his "Watson"--brilliant chess grandmaster Svetlana Kr sh. With her dry wit. Her runway legs. Her predator eyes. A Truth Stranger Than Fiction, the 3rd novel in the critically acclaimed Dakota Stevens Mystery Series, delves into the bizarre, interconnected world of foreign spies and fangirls, mobsters and murderers, government bureaucrats and corporate profiteers. Manhattan PI Dakota Stevens has just moved into new offices on Fifth Avenue when a young woman walks in with a problem: her older brother, a famous science fiction author, has been missing for a week. Before Dakota even has a chance to take the case, he and the young woman are accosted by a horde of people searching for the brother: government agents, thugs, mobsters, and two mysterious Chinese men. What could her brother possibly be into? In a case that leads from the streets of Manhattan to the woods of Upstate New York, to Boston and the shores of Maine, to Washington, D.C. and the Midwest--by foot, train, truck, boat and private jet--what begins as a simple missing persons investigation quickly devolves into the most difficult and personal case of Dakota's career. In the end, Dakota exposes a secret that literally has the power to change the world. And the truth is a truth stranger than fiction. With humor, action, intrigue, and lush writing, A Truth Stranger Than Fiction is a compelling noir mystery in the tradition of Robert Parker and Raymond Chandler. --- Praise for the Dakota Stevens Mystery Series from Amazon Customers: "Orcutt has combined a classic hard-boiled with the page-turning frenzy of a Dan Brown novel." "PI Dakota Stevens is a cross between Philip Marlowe and Jason Bourne and his partner Svetlana Krush is a chess Grandmaster with the body of a Victoria's Secret model." "Just when you think you've solved the mystery, Orcutt surprises you with another unexpected twist." "As for the characters--perfection. Flawed, funny, heroic and developed fully from the first page until the final page." "I read A Real Piece of Work in three days. Didn't get much sleep...but it was well worth it." "Dakota Stevens and his indispensable sidekick/chess champion Svetlana Krush are a delightful modern take on the noir detective style." "The author's ability to paint a picture or scene with words is astounding. This book is ripe for adaptation to film." "Orcutt weaves a story that keeps you hanging on until the very end." "People in the reviews keep mentioning Spenser/Robert B. Parker, and they're right; but add a good streak of John Le Carr , turn the roaster up a notch, and maybe you're getting in the ballpark." "Reading Orcutt is like chasing a lit fuse into a dark tunnel." "I am now stalking this author on Amazon, anxiously awaiting the release of his next book in the series.
About the Author
CHRIS ORCUTT has written professionally for over 20 years as a fiction writer, journalist, scriptwriter, playwright, technical writer and speechwriter. He has also taught high school U.S. history and college writing. At Baruch College, City University of New York, Chris received the Distinguished Teaching Award, and as a newspaper reporter he received a New York Press Association award. Chris is the author of the critically acclaimed Dakota Stevens Mystery Series. The first novel in the series, A REAL PIECE OF WORK, achieved a #1 top-rated ranking in Literary Fiction for Kindle, and #4 in Mystery. IndieReader writes of the novel, "Action, lust, danger, style and witty repartee, Orcutt's A Real Piece of Work is a work of art." The novel received similarly strong critical acclaim from other reviewers, as did the sequel, THE RICH ARE DIFFERENT. The third installment in the series, A TRUTH STRANGER THAN FICTION, debuts on January 1, 2015. Chris's short story collection, THE MAN, THE MYTH, THE LEGEND, was selected by IndieReader as one of the Best Books of 2013. And his modern pastoral novel, ONE HUNDRED MILES FROM MANHATTAN, was selected by IndieReader as a Best Book for 2014. In a review of the novel Kirkus Reviews favorably compared Chris to Pulitzer Prize-winning author John Cheever. For more about Chris, visit his website: www.orcutt.net. For more about the Dakota Stevens Mysteries Series, visit www.orcutt.net OR www.dakotapi.com.