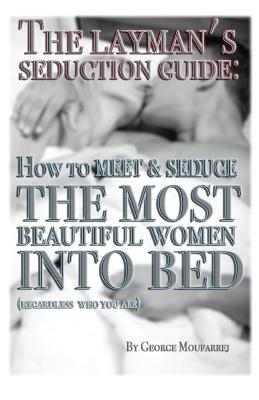 The Layman's Seduction Guide (Paperback)
How To Meet & Seduce The Most Beautiful Women
Moufarrej Publishing, 9780692352625, 182pp.
Publication Date: December 15, 2014
* Individual store prices may vary.
Description
This book will change the life of every man that reads it.

George Moufarrej is a dating expert featured on local and national media in the U.S.A. and Canada. He wrote this guide to help guys meet women strangers and start a relationship with them. The book covers all aspects of seduction, so that an average person will know what needs to be done to seduce high quality women.

Meeting women and getting dates are a challenge for many men. Even for guys who already know how to get dates, they still find it difficult to make the date a success, to escalate and seduce a woman.

They are under the false assumption that chemistry between a man and woman just happens. To make matters worse, they think that a man's looks and wealth affect his ability to seduce a woman.

This causes many men to be doomed to an unfulfilling and dull dating life with low quality women.

Any guy can learn how to meet and seduce women. This book tells you in detail how to meet women and how to seduce them. Nothing is left to chance. This book teaches you how to create chemistry with a woman by what you say and what you do. The chemistry that you create will enable you to seduce a woman regardless of your looks or wealth.

In this book you will learn

-How to approach strangers and get them on a date.
-How to hold conversations that are interesting and endless. You will never be confused as to what to say next.

-Discover when to call the woman before and after the date.
-Find out who pays on the date.
-The exact way to stand out from other men and be the man that the woman wants to date.
-Find out how to escalate and seduce women to bed.
-How to make her want to see you again after you seal the deal.

-And much more.

This book can change your life.
About the Author
George Moufarrej had a bachelor's degree from the University of Southern California (USC). He also has a master's degree from California State University of L.A. He currently resides in Southern California.