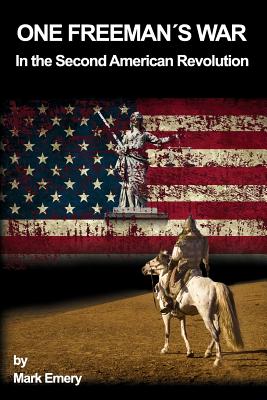 One Freeman's War (Paperback)
In the Second American Revolution
Pcf World Mission LLC, 9780692360989, 384pp.
Publication Date: February 27, 2015
* Individual store prices may vary.
Description
Amazing true story about American heroes who dared to challenge tyranny at every level.
(Adventure, Philosophy, Intelligence)
Ordinary citizens had the government running scared
With a background in International Business, Rex Freeman was recruited heavily by the C.I.A. to do work overseas under 'private cover'. He endured a gruelling screening process which spanned nearly 8 months. When he was finally invited to the Langley headquarters to make the final step, he declined the offer. Being a man of strong principles he knew he wouldn't fit in any situation in which he'd have to sell his soul for nefarious black ops.
It wasn't long before he had a run in with the I.R.S. which didn't suit him much. He uncovered fraud in the process and this led him to start studying the law. The more he studied, the more fraud, deception and misapplication of the law he uncovered and it wasn't long before he became a citizen advocate for natural rights and lawful government. Instead of working 'for' the government as he nearly did, he was now attacking it head on and trying to put overzealous tyrants back in their proper place as servants to their masters, the people.
Rex became very public with weekly seminars and public training exposing the corruption and then offering solutions on what people can do about it to protect themselves and hold tyrants accountable. This led to a radio show and that 'did it'. He became a threat to 'business as usual' by the 'status quo'. The game was on and he became a target for persecution. The more government tried to silence him, the more he discovered and he became even more effective in countering the their attacks and suppression tactics.
They threw him in jail, and he broadcast his radio show from the phone in his cell pod interviewing the inmates about abuses they had suffered. They couldn't shut him up. He wouldn't back down. The more they threatened him, the more he pushed back and he exposed their iniquity for all to see.
Rex and others like him took on;
Overzealous Police
Corrupt Courts
Errant Public Officials
The I.R.S.
and even The Fed and the U.S. Treasury.
They proved that the Government Goliath could be humbled by their Citizen Masters
We all know that 'Knowledge is Power'. Rex and others like him had acquired the knowledge and the power to defend themselves and challenge 'the machine' which so many of us feel so helpless to stand up against. This is a story of hope. It is a gripping adventure. It's entertaining and funny Yet it is as serious as a heart attack. You will be enlightened when you learn some of the amazing discoveries that were made and you will see the key issues that have bound you over to servitude in our current system of law.
Lessons and Discoveries for all Americans & Freedom Lovers Worldwide.
The issues raised in this book are critical to understand as it comes down to pure operation of law and how your rights are converted into privileges and regulated by the government. Which do you prefer; the status quo where temporary government granted privileges can be suspended on a whim? Or immutable Natural, God Given rights, which nobody can infringe upon? The choice is yours.
Reclaim those natural rights. Understand the issues.
Read this book to advance your knowledge (while being entertained at the same time)
SCROLL UP AND GET THIS BOOK
About the Author
The author was raised as an average kid in middle America and was taught to respect authority. In adulthood he became self taught in matters of law and upon discovering how the law was misused and misapplied, he learned quickly how to 'challenge authority'. His avocation flourished as he became a civil rights advocate against government abuse of the law. His leadership on a local level continually expanded until he became a radio personality and was teaching masses of people some uncomfortable truths that affected 'the anointed powers' who benefitted from the 'status quo'. Naturally, the only possible result was 'conflict' and this story delves into the twists and turns which will open eyes like never before. This is the first and only book written by this author and after you understand the content, you'll also understand why it may be his last!