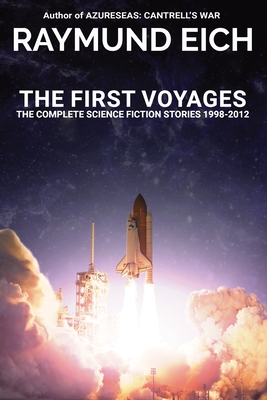 The First Voyages (Paperback)
The Complete Science Fiction Stories 1998-2012
CV-2 Books, 9780692374719, 166pp.
Publication Date: February 10, 2015
* Individual store prices may vary.
Description
From 21st century asteroid settlements to World War II Transylvania, from an Earth dominated by immortal aliens to Christ's empty tomb, a fresh, distinctive voice in science fiction will take you on journeys to the photosphere of the sun, the coding regions of DNA, and the complexities of the human psyche.
About the Author
Raymund Eich files patent applications, earned a Ph.D., won a national quiz bowl championship, writes science fiction, and affirms Robert Heinlein's dictum that specialization is for insects. In a typical day, he may talk with biochemists, chip designers, patent attorneys, and rocket scientists. Hundreds of papers cite his graduate research on the reactions of nitric oxide with heme proteins. His novels include the first two volumes in the Confederated Worlds series, TAKE THE SHILLING and OPERATION IAGO, and evolutionary psychology hard science fiction novel NEW CALIFORNIA. He lives in Houston with his wife, son, and daughter.