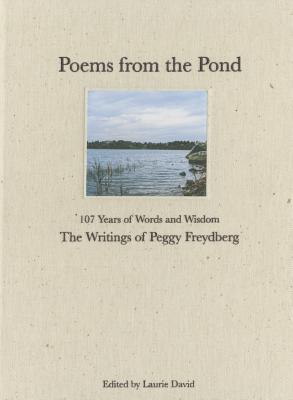 Poems from the Pond
Hardcover

* Individual store prices may vary.
Description
Peggy Freydberg is proof positive that creativity has no age limit! Just when most people are winding way down, Peggy began writing a lifetime's worth of poems at age 90! Pulitzer Prize-winning author Geraldine Brooks describes Peggy's poetry as having a "stunning intensity and searing emotional impact." Edited by Laurie David, these poems will resonate with anyone who is trying to unravel life's questions about life, love, fear, aging, and loss. Peggy's beautiful poetry proves it's never too late to start writing and be discovered - even if you are 107 years old!
Praise For Poems from the Pond…
"Reading these poems made me feel like I was being let in on a secret, a secret I'm dying to whisper to lots of other people." --Billy Collins, Two-Term Poet Laureate of the United States
 
"With an unflinching eye and a compassionate heart, Peggy Freydberg has looked deeply into what it means to live a long life. In pulse-quickening poems of stunning insight and artistry, she probes the necessity of loss and the exhilarations of love." --Geraldine Brooks, Pulitzer Prize-winning novelist
"Bound in white linen and containing poems and photographs, along with reflections by Ms. David and others, the book itself is a work of art, and a monument to a long life that touched many." --The Vineyard Gazette
Hybrid Nation, 9780692376539, 132pp.
Publication Date: May 1, 2015
About the Author
Author Bio:

Margaret Howe Freydberg was born March 6, 1908 in Rochester, New York. She had two children with her first husband Sam Sloan, a literary editor and publisher. After Sam passed away, Peggy married Nicholas Freydberg, also a publisher, environmentalist, sailor, and intellect. Peggy and Nick's love of Martha's Vineyard brought them there year round in 1969. There Peggy wrote several novels in a writing tent Nick set up for her on their lawn, including her memoir Growing Up in Old Age, which courageously confronted her fear of dying, asking the question, "Am I to spend the rest of my life in the fear of losing it?"  While Peggy was writing her memoir tackling universal themes of aging, death, and fear, her beloved Nick passed away at 87. At 90 years old, Peggy was no longer able to write in long form and began writing the poems in this collection. Desperate to continue to express herself, she described the day it occurred to her to write poetry as, "A force that had lodged in my head and demanded to come out." At 107 years old, Peggy passed away on March 27, 2015.  At the time, she was living in in her home on Martha's Vineyard with her treasured cat. The wheels driving Peggy to understand herself and confront her fears continued to spin searching for answers to life's simple and complex questions. It was essential to her longevity . . . that and dark chocolate, she suggested.  
Editor Bio: For over a decade Laurie David has brought her passion and dedication to a variety of important environmental and food issues, from global warming to America's overconsumption of sugar. An Inconvenient Truth, featuring Al Gore and released in 2006, woke the world up to the global world crises of too much carbon in the atmosphere. AIT went on to win many awards including the prestigious Academy Award in 2007. In 2013 Laurie partnered with award winning journalist Katie Couric to executive produce Fed Up, a feature-length documentary that examines the causes and impact of the childhood obesity epidemic. The author of two cook books and co-author of a book on global warming, Laurie has received numerous awards and honors, including the Producers Guild of America's Stanley Kramer Award, a Humanitas Prize Special Award and a Gracie Allen Award, the Audubon Society's Rachel Carson Award, the Feminist Majority's Eleanor Roosevelt Award and the NRDC Forces for Nature award. She has also been featured on The Oprah Winfrey Show, Good Morning America, The Today Show, CNN, Fox News and MSNBC. She was named a 2006 Glamour Woman of the Year and has been profiled in People, Glamour, Redbook, Ladies Home Journal, Vogue, Rolling Stone, Elle, Wired, House & Garden, The New York Times and Vanity Fair.
or
Not Currently Available for Direct Purchase