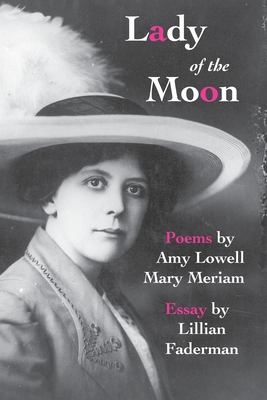 Lady of the Moon (Paperback)
Headmistress Press, 9780692388518, 110pp.
Publication Date: June 27, 2015
* Individual store prices may vary.
Description
Amy Lowell's contemporaries, writing at a time when lesbians were invisible, described her as an old maid. But as Lillian Faderman argues, Lowell wrote "some of the most remarkable, barely encoded, lesbian poems since Sappho," while living in a Boston marriage with her muse, Ada Dwyer Russell. Lady of the Moon offers a combination of three voices on the Boston marriage of Amy Lowell and Ada Dwyer Russell. The first part contains a selection of Lowell's love poems to Ada. The second part contains a scholarly essay by Lillian Faderman that analyzes these poems in relation to Lowell's life. The third part contains a 27-sonnet sequence by Mary Meriam which draws from the first two parts and supports the story with imaginative details. In this jewel of a volume, a great love is reanimated. Imagist Amy Lowell's love poems to actress Ada Russell, pioneering lesbian-feminist scholar Lillian Faderman's landmark essay on Lowell and Russell, and contemporary poet Mary Meriam's heartfelt sonnet sequence speaking to Russell in Lowell's voice, combine to create a remarkable erotic and poetic event. Like Gertrude Stein and Alice B. Toklas, Lowell and Russell had a great creative partnership that made an indelible mark on literary and lesbian history. Lowell called her "tense and urgent love" for Russell an "amethyst garden;" today's readers will find gems of all colors in Lady of the Moon.
-Lisa L. Moore, author of Sister Arts: The Erotics of Lesbian Landscapes (Lambda Literary Award, 2012), and Professor of English and Women's and Gender Studies, The University of Texas at Austin What an erotic trinity Amy Lowell's fiery poems about Ada Dwyer Russell; Lillian Faderman's illuminating essay about the couple and their "Boston marriage"; and Mary Meriam's contemporary poems in Lowell's lustful voice. Forget "Amygism" and "Patterns" with this brilliantly edited selection of works by and about Amy Lowell, Mary Meriam restores Lowell to her rightful status as a groundbreaking feminist poet.
-Julie Kane, National Poetry Series winner and recent Louisiana Poet Laureate Mary Meriam writes as Amy Lowell and her beloved Ada. She imagines, in a variety of sonnet forms, the richness that Lowell removed from her own love poems. While making use of Lowell's language, the sonnets' insistence on the psychological fullness of the two women and their relationship unsettles the century-old sounds so that a sense of quaint mimicry falls quickly by the wayside. The organization of the volume's three parts is astute, though, finally, these sonnets cohere into a whole of their own.
-Marcia Karp, poet and translator.