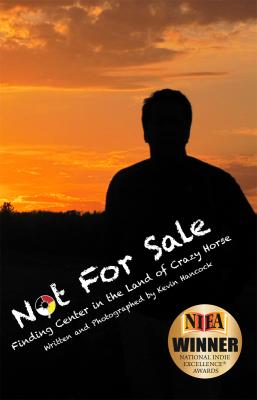 Not For Sale (Paperback)
Finding Center in the Land of Crazy Horse
Seventh Power Press, 9780692410998, 512pp.
Publication Date: September 5, 2015
* Individual store prices may vary.
Description
"WHAT BRINGS YOU HERE?" the old jewelry maker asked. Moments later, Kevin found himself alone again by the red wooden sign depicting the massacre that occurred here so long ago. As Kevin stood, absorbing the soft wind that always seems to blow on the northern plains, he reflected on the strange sequence of events that had brought him to this lonely place, and how an old Lakota woman he had just met, an evolutionary astrologist he had never met, and a rare voice disorder he had never heard of had joined forces to make him stop, look inward, and think.

Not For Sale: Finding Center in the Land of Crazy Horse is a unique iconoclastic memoir that traces one businessman's journey deep into Indian country, and even deeper into his own soul. In a corporate world hallmarked by the never-ending quest for bigger, better, more, this CEO of one of America's oldest family businesses contemplates an organizational structure where the goal is to do less, not more. In a 24/7 internet- wired world consumed with roles, responsibilities, and external accomplishments, Kevin learns to look inward for meaning and purpose. Through a series of successive, solo trips to the Pine Ridge Indian Reservation, Kevin learns the following powerful lessons:

We all come from a tribe, and while the pull of the past is strong, the soul is here to individuate.
Leadership in the new Aquarian Age is about doing less, not more. Those who hold the power often overreach; they go too far.
Busyness is not living, and personal growth lies in looking inward, not outward.
The boundaries that have been set to divide people are not real. In the end, we're all one tribe.
In a modern-day adventure strikingly similar to the ancient Lakota Vision Quest rite, Kevin separates from his own tribe for the purpose of seeking a deeper sense of self. Along the way, Kevin comes to be thankful for the partial loss of his own speaking voice as he learns it was his soul's way of getting him to stop working, stop leading, stop caretaking. In losing consistent access to his voice, Kevin discovers a pathway, a calling, to strengthening the voices of others, which he uses to think differently about the future of Pine Ridge, the future of Hancock Lumber, and the future of tribes everywhere.
About the Author
KEVIN HANCOCK is the President of Hancock Lumber Company. Established in 1848, Hancock Lumber operates ten retail stores and three sawmills that are led by 460 employees. The company also grows trees on 12,000 acres of timberland in Southern Maine.

Hancock Lumber is a multi-year recipient of the 'Best Places to Work in Maine' award. The company is also a past recipient of the Maine Family Business of the Year Award, the Governor's Award for Business Excellence, and the MITC 'Exporter of the Year' award.

Kevin is a past chairman of the National Lumber and Building Materials Dealers Association as well as the Bridgton Academy Board of Trustees. Kevin is a recipient of the Ed Muskie 'Access to Justice' Award, the Habitat For Humanity 'Spirit of Humanity' Award, the Boy Scouts of America 'Distinguished Citizen' Award, and Timber Processing Magazine's 'Man of the Year' Award. Kevin also spent 20 years coaching middle school basketball for the Lake Region school district.

Kevin is a graduate of Lake Region High School and Bowdoin College. He is also a frequent visitor to the Pine Ridge Indian Reservation in South Dakota. In 2015, Kevin published a book about his experiences with the Oglala Sioux Tribe titled, Not For Sale: Finding Center in the Land of Crazy Horse. The book won the 2015 National Indie Excellence Award, first place in leadership and runner-up in the spirituality category.

Kevin is an advocate of strengthening the voices of all individuals—within a company or a community such as Pine Ridge—through listening, empowering, and shared leadership.
Praise For Not For Sale: Finding Center in the Land of Crazy Horse…
"I read Not For Sale: Finding Center in the Land of Crazy Horse in record time. I simply couldn't put the book down. Kevin Hancock's courage in laying out his vision quest so beautifully and humbly is a true inspiration. It is my hope that all business leaders will heed the message that it is possible to care for our souls and our businesses simultaneously. In fact, for true sustainability and health, we must."

–Christiane Northrup, MD, New York Times best-selling author of Women's Bodies, Women's Wisdom, and Goddesses Never Age

"If you had told me a couple of years ago that my friend, Kevin Hancock, would set off on a quest for enlightenment, sparked by a long-distance astrological reading which would lead him to a sweat lodge in a remote Indian reservation well, let's just say that 'skeptical' doesn't come close to covering it. What happened next is the amazing story Kevin tells here; part history (and not very pleasant history at that), part spiritual journey, part moving portrait of some extraordinary people, and part leadership manual, this fascinating book will touch you and teach you on many levels."

–Angus S. King Jr., US Senator

"Kevin Hancock takes us on a spellbinding journey deep into the depth of the human soul. The message is powerful, universal, and timeless. We are all seeking to live a life of joy, gratitude, meaning, and purpose. I am certain this amazing book will help others in search of their life's calling."

–Ted Carter, Owner of Ted Carter Inspired Landscapes and co-author of Reunion: How we heal our broken connection to the Earth and Earth Calling

"Kevin Hancock's story touched me, heart and soul. As I read his words, I kept having to chase 'Amazing Grace' out of my head. The archetype behind that song–the archetype of awakening and redemption–permeates every chapter. His is the kind of tale that helps restore my faith in human nature–and gives me hope for the human future."

–Steven Forrest, author of The Inner Sky

"Your book came to me for a reason, and just at the right time. I read it twice, and its pages are dotted with my tears (literally)."

–Margaret K. Minister, partner at Pierce Atwood

"What I have learned through my relationship with Kevin is to remain open-minded, look at everybody as equals and imagine the collective power we can create by coming together. In the beginning, I thought that Kevin and I couldn't be more different. But, now, I realize that although our journeys started out differently, we are arriving at the same place. Like the Sacred Hoop of the Lakota medicine wheel, the beginning and the ending live in the same spot. Strength comes from the realization that the differences that once tore us apart might now be the opportunities that bring us together. I think this is something that is beginning to happen around the world."

–Nick Tilsen, Askoka Fellow and Oglala Sioux Tribe
or
Not Currently Available for Direct Purchase