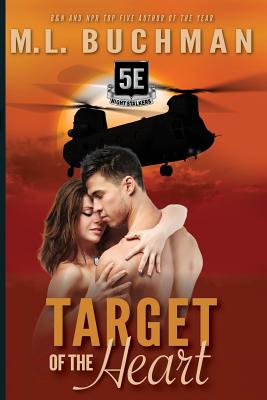 Target of the Heart
Paperback

* Individual store prices may vary.
Description
-a Night Stalkers 5E romance-
MISSION: China's newest Coast Guard ship is a monster that threatens to change the balance of power in the West Pacific. Now the only ones who can stop them are the Night Stalkers' newest company--the 5E--when they unite with SEAL Team 6.
TEAM:
Captain Danielle Delacroix
-- Strives to build a team stronger than any single pilot.
Major Pete Napier
-- Flies for one goal: to be better than everyone else.
Launching a new Special Operations helicopter company may be the hardest assignment a commander could draw. Forming it with a bunch of rookie helo pilots then slamming them into a Black Ops crisis mission infiltrating China--well that's just uncalled for.
And what is Pete to do with the soft-spoken woman who can outfly him on his best day? Maybe China isn't his biggest challenge.
Buchman Bookworks, Inc., 9780692418765, 212pp.
Publication Date: March 29, 2015
About the Author
M. L. Buchman has over 35 novels in print. His military romantic suspense books have been named Barnes & Noble and NPR "Top 5 of the year" and Booklist "Top 10 of the Year." He has been nominated for the Reviewer's Choice Award for "Top 10 Romantic Suspense of 2014" by RT Book Reviews. In addition to romance, he also writes thrillers, fantasy, and science fiction. In among his career as a corporate project manager he has: rebuilt and single-handed a fifty-foot sailboat, both flown and jumped out of airplanes, designed and built two houses, and bicycled solo around the world. He is now making his living as a full-time writer on the Oregon Coast with his beloved wife. He is constantly amazed at what you can do with a degree in Geophysics. You may keep up with his writing by subscribing to his newsletter at www.mlbuchman.com.