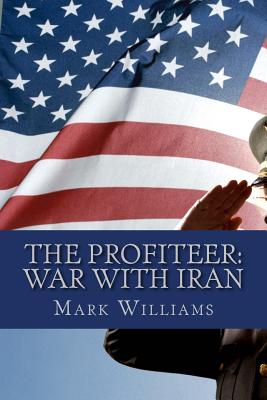 The Profiteer (Paperback)
War with Iran
Mark Williams, 9780692422205, 346pp.
Publication Date: May 24, 2015
* Individual store prices may vary.
Description
Former FBI agent and corporate warrior, Steve Holmes, vindicates employees accused of sabotage and finds love while battling greed and corruption in a nuclear war with Iran. Greedy corporate leaders and corrupt politicians are the obstacles Steve Holmes must overcome to vindicate the valiant men and women who served as his contractor employees at Kratos before they were soldiers and Marines. Kratos, a name taken from the winged enforcer for the Olympian God Zeus, is an appropriate symbol for the largest defense contractor supporting the war in Iran. FBI Special Agent Sherry Adkison and Kratos executive Steve Holmes follow an international trail of spies and saboteurs that leads right back to the halls of Congress. The story opens in 2020 with an attack on a convoy delivering supplies to Forward Observation Bases in northern Iran near the Caspian Sea. Communications and intelligence failures cause the convoy to drive into the middle of a pitched battle between U.S. Army Rangers and Iranian guerilla fighters. Communication and intelligence failures had occurred before. These failures were no accident Who sabotaged the convoys delivering supplies in Iran? Was it the greedy defense contractor? Or, maybe it was a Chinese agent or Iranian saboteur? Are U.S. spies to blame? How are our most powerful politicians involved? These are the questions Steve and Sherry must answer to discover who is leaking classified convoy travel and schedule intelligence to the Iranian Mujahedeen. The mujahedeen have killed hundreds of soldiers and Marines, and they have destroyed or stolen hundreds of millions of dollars in supplies and equipment.
About the Author
Mark Williams spent over 30 years working with the uniformed military, government civilians, corporate executives and contractors throughout the military-industrial complex. He was an executive for two Fortune 500 companies running businesses that provided contractor support to the United States Department of Defense, the United Kingdom Ministry of Defence, and the Australian Defence Force. In the 1970s, he served as an Air Force security policeman in the U.S. and Turkey. He holds college degrees in engineering, mathematics and systems analysis.