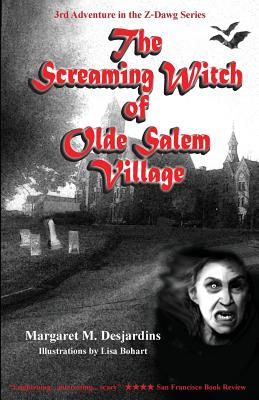 The Screaming Witch of Olde Salem Village
Paperback

* Individual store prices may vary.
Description
The third book in the Z-Dawg series finds Zack in attack mode again. Zack and Grandpa are living in a haunted apartment building, high on a hill, in a place that was once Ground Zero for the witch trials held in 1692. Then, in 1874, The Danvers State Mental Hospital was built on this exact spot This place is haunted. Dead bodies have been callously tossed into unmarked graves after torturous experiments done to them at the hospital. There is screaming and moaning coming from the walls and floorboards of the condominium, where 14 year old Bridget Bradshaw, and her mom live. Bridget is a descendant of Sarah Bradshaw, who was accused of witchcraft by John Hathorne. Hathorne placed a curse on her family for all eternity. Then, her great, great, grandmother, also Sarah Bradshaw, was tortured in the mental hospital because of a horrible secret that she carried to her grave. Bridget and her mom need help. How will Z-Dawg help reverse the curse and set the tortured spirits free after 300 years? Evil resides in this dark place, at Ground Zero.
Egg Rock Publishing, 9780692433591, 226pp.
Publication Date: May 30, 2015
About the Author
Dr. Desjardins has been an elementary and middle school teacher, a school administrator, and a reading consultant. She is a professor of English at a college in Florida. When she is not busy thinking up mysteries for her grandkids, she is writing poetry about nature and other important things. With three children scattered about the globe and nine grandchildren, all with distinctive personalities, she has plenty of sleuths to help solve all the mysteries she could possibly think up. She lives in Sarasota, Florida, with her husband and two fun loving dogs, Max and Oliver. For six months of the year, she lives on an island in New England close to Boston.