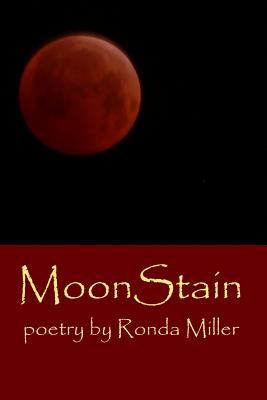 MoonStain
Paperback

* Individual store prices may vary.
Description
MoonStain describes the blood moon as it shines through tree leaves, marking the long hours of a sleepless night as it spreads from one point to another on a young child's bedroom floor.
In this collection of poetry, Miller weaves stories of life, death, and love through her poetry, primarily narrative in form. From glimpses of her childhood home on her grandparents' farm to images of a woman's life, her loves, her losses, we learn of life's stains, of moments that shape and become a part of one woman's voice.
Ronda Miller is a poet and Life Coach. Born in Ft. Collins, Colorado, she was raised on her grandparents' farm in the high plateau region of NW Kansas. She holds degrees in Human Development and Creative Writing from the University of Kansas. She is a Fellow of the Citizen Journalism Academy and a district president and current board member of the Kansas Authors Club.
Meadowlark, 9780692434666, 110pp.
Publication Date: May 17, 2015
About the Author
Ronda Miller is a Life Coach who works with clients who have lost someone to homicide. She is a graduate of The University of Kansas and continues to live in Lawrence. She is a Fellow of The Citizen Journalism Academy, World Company, a Certified Life Coach with IPEC (Institute of Professional Empowerment Coaching), mother of Scott and Apollonia. She created poetic forms loku and ukol. She is the current poetry contest manager for Kansas Authors Club (2011 - 2014) as well as the District 2 President. She is the co-chair, along with Caryn Mirriam-Goldberg, for the Transformative Language Arts Conference to be held at Unity Village September, 2015.