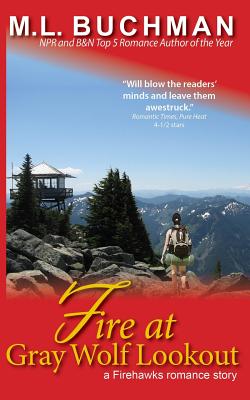 Fire at Gray Wolf Lookout
Paperback

* Individual store prices may vary.
Description
-a Firehawks romance story-
Life's deeper purpose eludes Tom Cunningham, and its lesser purpose too. Leaving behind Seattle, his job, and a near endless supply of easy women, he grabs adventure and spends a summer in the Montana wilderness -looking for wildfires and also for himself.
Done with her military service, Patty Dale enters the wilderness to pursue her life's dream-to hunt gray wolves with a camera and a notebook.
They both find far more than they bargained for when there's Fire at Gray Wolf Lookout.
Buchman Bookworks, Inc., 9780692449929, 104pp.
Publication Date: May 12, 2015
About the Author
M. L. Buchman has over 35 novels in print. His military romantic suspense books have been named Barnes & Noble and NPR "Top 5 of the year" and Booklist "Top 10 of the Year." He has been nominated for the Reviewer's Choice Award for "Top 10 Romantic Suspense of 2014" by RT Book Reviews. In addition to romance, he also writes thrillers, fantasy, and science fiction. In among his career as a corporate project manager he has: rebuilt and single-handed a fifty-foot sailboat, both flown and jumped out of airplanes, designed and built two houses, and bicycled solo around the world. He is now making his living as a full-time writer on the Oregon Coast with his beloved wife. He is constantly amazed at what you can do with a degree in Geophysics. You may keep up with his writing by subscribing to his newsletter at www.mlbuchman.com.