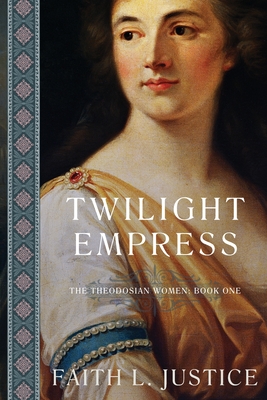 Twilight Empress
A Novel of Imperial Rome
Paperback

* Individual store prices may vary.
Other Editions of This Title:
Hardcover (5/18/2020)
Description
She lives a life of ambition, power, and intrigue she didn't seek, but can't refuse
.
Daughter of Rome, Placidia expects to do her duty to God and country, marry appropriately, and raise imperial heirs. But in AD 410, the city of Rome falls to the Goths and she must save the tottering Roman Empire from the incompetent hands of her brother. To do so, she must marry: Her captor, the dashing king of the Goths? Or his enemy the implacable Roman general who's loved her for years?
Placidia must outwit rebellious generals and defeat usurpers to win the devotion of her people and secure the throne for her young son. It's not just the enemies within that threaten her rule. Vandals invade the African provinces and Attila masses his Huns on her border. But it's the knife in the hands of those closest that cuts the deepest. Will a confrontation with her scheming children be the battle she can't survive?
Twilight Empress is the exciting first novel of the Theodosian Women series featuring the remarkable women who reigned during the Roman Empire's twilight years. Don't miss this "addictive read" (Kirkus Reviews); "filled with romance, political intrigue, and drama that will keep you turning the pages" (History from a Woman's Perspective).
Raggedy Moon Books, 9780692460511, 394pp.
Publication Date: May 8, 2017
About the Author
FAITH L. JUSTICE is a science geek and history junkie, which is reflected in her writing. Her short stories and poems have appeared in such publications as "The Copperfield Review", "Beyond Science Fiction and Fantasy", and the "Circles in the Hair" anthology. Faith has published in such venues as "Salon.com", "Writer's Digest", "The Writer", and "Bygone Days". She's an Associate Editor for "Space & Time Magazine", a frequent contributor to "Strange Horizons", and co-founded a writer's workshop more years ago than she cares to admit. To contact Faith, read her essays and interviews, or get a sneak preview of her historical novels, visit her website at faithljustice.com.