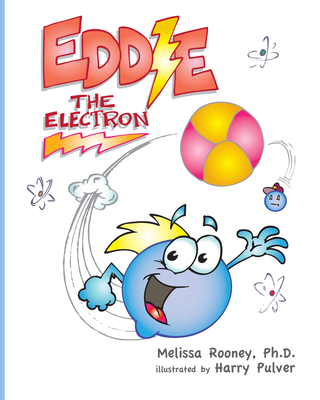 Eddie the Electron (Paperback)
Amberjack Publishing, 9780692467435, 32pp.
Publication Date: August 1, 2015
* Individual store prices may vary.
Description
Eddie the Electron wants to educate kids everywhere about what it's like to be an electron! He's cute, super enthusiastic, ambitious, smaller than the tip of a pencil and he doesn't want to be confused with a proton or an atom. Feeling stuck with his unexciting fellow electron Erwin, Eddie finds himself with way too much spare time on his hands and longing for adventure outside of the helium balloon where he lives. Just what lengths will he go to be free? There's only one way to find out! Come along with us and learn about life in Eddie's world.
About the Author
Melissa Rooney grew up in Martinsville, VA. After receiving undergraduate degrees in English and Chemistry from the College of William and Mary, she attended graduate school at the University of North Carolina in Chapel Hill, where she studied electrochemistry and was awarded her Ph.D. in Chemistry in 1998. Melissa conducted research in the laboratory of Alan M. Bond at Monash University in Melbourne, Australia, from 1999-2002 and was awarded a Post-Doctoral Fellowship from the Australian Research Council. In 2002, she returned to North Carolina to raise her family with her husband, Mike Rooney.

Since moving to Durham, Melissa has been a regular columnist with the Durham News and has written for Highlight's Children's Magazine among other serial publications. She is currently a senior scientific editor with American Journal Experts and a teaching artist in the Durham Arts Council's Creative Arts in Public and Private Schools (CAPS) program, in which she provides engaging, science-based workshops for public schools.