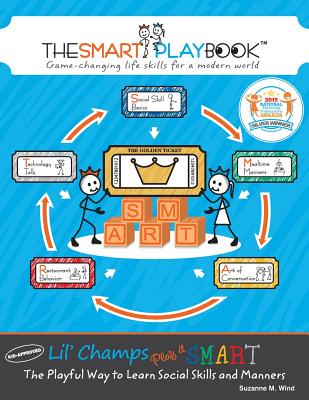 Lil' Champs Play it SMART
The Playful Way to Learn Social Skills and Manners
Paperback

* Individual store prices may vary.
Description
Award-winning Mom's Choice Awards Gold Winner and NAPPA Silver The follow-up to the award-winning The SMART Playbook, Lil' Champs Play it SMART is a practical, creative book that will help your child master basic social skills while having fun Each activity is designed to teach basic principles that every child should learn, but does so in a manner that is highly engaging and wonderfully addicting. Your child will discover, through tried-and-true methods of learning, all that they need to have successful and meaningful interactions with their peers and beyond. Everything from magic words, first impressions, good play dates, proper table manners, and respecting technology is taught on your child's level in a way that stimulates learning. With doodles, mazes, matching games, dot-to-dot and more, your Lil' Champ will love learning and be inspired to follow "manner rules." Recommended for ages 3-6 The SMART Playbook is a proud recipient of ten awards including Moms Choice Awards Gold, Creative Child Magazine 2014 Book of the Year, Academics Choice Award, USA Best Book Award and more.
Modern Grace Publishing - The Smart Playbook, 9780692472200, 126pp.
Publication Date: July 13, 2015
About the Author
Suzanne is the award-winning author of The SMART Playbook. She lives in CT with her husband and three kids. Before kids, she was an international marketing executive in New York City. With a multi-cultural background, she was raised in more than six countries with four languages. Her career and living overseas taught her the importance of knowing and using the common language of manners and social skills to being your best. Today she's a mom with a mission, inspired to communicate social skills in a modern world to a new generation.