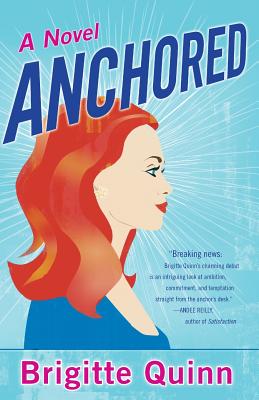 Anchored (Paperback)
Curtis Brown Unlimited, 9780692473511, 304pp.
Publication Date: August 2, 2015
* Individual store prices may vary.
Description
"Breaking news: Brigitte Quinn's charming debut is an intriguing look at ambition, commitment, and temptation straight from the anchor's desk." --Andee Reilly, author of Satisfaction "A lighthearted read that takes you behind the scenes of a real newsroom revealing romance, true friendship, difficult bosses, and naked ambition, Anchored is a light read that will make you wonder about what's really going on the next time you watch the news " - Susie Schnall, author of On Grace and The Balance Project "A glimpse inside the cutthroat world of cable journalism that guarantees you will never watch the news the same way again. It's Broadcast News for the New Millennium." - Whitney Dineen, author of The Reinvention of Mimi Finnegan How do you stay anchored when you're attracted to your co-anchor? Barbara King's dream is to become the next Barbara Walters. But for now, she's anchoring at the fledgling Phoenix news channel, covering car chases and interviewing drunken showbiz has-beens. If she can just out-fox the conniving anchors at her cable channel and move up to its prime-time line-up, she'll be able to fly the coop and ascend to a real news network. Enter Jack Stone, Barbara's dynamic, witty-and did she mention sexy?-new co-anchor. Another potential competitor, Jack's attitude is chilly toward Barbara at first, but it's not long before a genuine friendship forms. Soon they find themselves finishing each other's sentences, discovering all they have in common and, ultimately, attempting to ignore how wildly attracted they are to each other. Meanwhile, on the set, under television's bright lights, they sit just inches apart, their chemistry even apparent to the quirky cast of characters in the gossiping newsroom. Will Barbara give in to her attraction to Jack and betray her husband, Ben, her sweet-souled moral compass? When a life-altering news event propels the Phoenix to the #1 news channel in the nation, will Barbara sell her soul to become a prime time star? How do you stay true to yourself when you're being seduced by stardom-and your co-star?
About the Author
Brigitte Quinn has worked in broadcasting for more than thirty years, and was a television anchor at the Fox News Channel, MSNBC and NBC. She holds an MFA in writing from Sarah Lawrence College and a BS from Cornell University. She lives in Connecticut with her husband and three children, and is currently anchoring mornings at 1010 WINS radio in New York City. You can visit her website at www.brigittequinn.com.