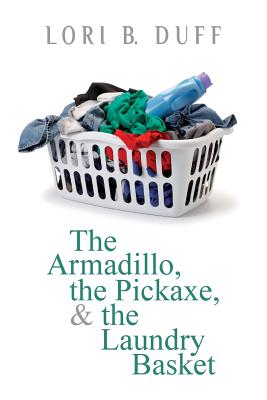 The Armadillo, the Pickaxe, and the Laundry Basket
Paperback

* Individual store prices may vary.
Description
Author's Note: "The Armadillo, the Pickaxe, and the Laundry Basket" is not a work of fiction. Neither is it a work of fact, at least not entirely. It is mostly true, and mostly harmless. Most people named are who I say they are. Some names and situations have been slightly altered to protect the privacy of the people whose stories I have stolen, more or less always with permission. Some situations have been exaggerated for effect, or tweaked a little bit, if I thought they were funnier exaggerated or tweaked. No animals were harmed in the making of this book, except maybe the armadillo, who was mostly just terrified. But that's ok - so was I. Author Pretending to be a Publicist's Note: Lori B. Duff has been hailed as the funniest woman to ever put pen to paper, sometimes even by people who aren't her Mom. Her work has been compared (again, not by her Mom) to Erma Bombeck and David Sedaris. This book is her second collection of humorous essays.
Lori Duff Writes, 9780692474426, 194pp.
Publication Date: July 31, 2015
About the Author
Lori B. Duff is a woman with many titles. She's a mother. She's a lawyer. She's a judge. She's a wife. She's a columnist. She's extremely tired. And most of all, she's funny. To find out more about Lori, visit www.loriduffwrites.com.