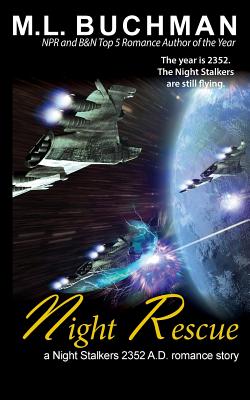 Night Rescue
Paperback

* Individual store prices may vary.
Description
-a Night Stalkers 2352 A.D. romance story-
The nations of Earth are retreating into space. When the last airlift mission must succeed, the Night Stalkers answer the call.
Captain Takara Olmsted and her Stinger-class ship, Stella, lead the way. But when Captain Rick Coralto and the Jess take a hit, the airlift goes to hell.
The mission needs more than fantastic pilots to complete this Night Rescue.
Buchman Bookworks, Inc., 9780692485361, 66pp.
Publication Date: July 6, 2015
About the Author
M. L. Buchman has over 35 novels and an ever-expanding flock of short stories in print. His military romantic suspense books have been named Barnes & Noble and NPR "Top 5 of the year," Booklist "Top 10 of the Year," and RT "Top 10 Romantic Suspense of the Year." In addition to romantic suspense, he also writes contemporaries, thrillers, and fantasy and science fiction. In among his career as a corporate project manager he has: rebuilt and single-handed a fifty-foot sailboat, both flown and jumped out of airplanes, designed and built two houses, and bicycled solo around the world. He is now a full-time writer, living on the Oregon Coast with his beloved wife. He is constantly amazed at what you can do with a degree in Geophysics. You may keep up with his writing at www.mlbuchman.com.