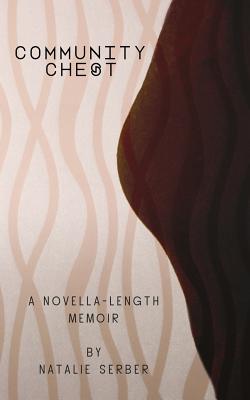 Community Chest (Paperback)
Two Sylvias Press, 9780692492598, 56pp.
Publication Date: October 1, 2015
* Individual store prices may vary.
Description
Diagnosed with breast cancer, Natalie Serber did the only thing she could: she wrote her way through the confusion and fear. In this fear and good-humored memoir, she tries to maintain her sense of gratitude and grace.
Praise For Community Chest…
I loved Natalie Serber's smart, funny and bittersweet report from the Land of Breast Cancer. Fear and grief take turns with an "almost normal day"; kindness and honesty collide with "irrational" rage. While generously detailing the unique aspects of her personal journey, she also manages to honor the collective experience so many (too many!) of us have shared. Now we have this story to share too. —Elizabeth Rosner, author of Electric City, Blue Nude, and The Speed of Light

Natalie Serber is the kind of friend you long for when things get hard—tough enough to see how dark things can get, but with enough pluck and fortitude to show you how to thrash through it. This perfect memoir is not just a tale of surviving a diagnosis but of truly experiencing it, observing it, and feeling all that it brings—gravity, absurdity, craziness, fury, tenacity, and love. —Robin Romm, author of The Mercy Papers and The Mother Garden

What I loved about this book: the honesty, the unadorned reality, the bitter, the sweet, the surrender—the lucidness, and lyric grace that touched these pages, calling you friend, whispering secrets, helping readers grapple with their own struggles with the fear and pain and shame that comes from a diagnosis of Cancer. Natalie Serber is a born writer, braiding past, present and future into a story that is both vulnerable and strong, witty and filled with insight. —Naseem Rakha, author of The Crying Tree

Natalie Serber's Community Chest closely describes and considers her experience of breast cancer—from diagnosis through surgery and chemotherapy and recovery to the lovely abyss of remission. Serber's prose is totally stunning, is both clipped, compact and capaciously expansive. The writing reveals Serber's varied emotional, bodily experience with great precision and complexity. She especially writes deeply about the experiences of loneliness and anxiety (Anxiety is imagining forward, imagining the worst.). The knockout sections here are "Pierced" and "#Baldunderneath." Both describe what underscores any day of illness (any day of wellness too)—loss of body, decline of the body amidst other bodies in decline, in fruition, and even though Serber experiences (and endures) bodily loss, the prose forms into its own beautifully fecund body regaining itself. —Jay Ponteri, author of Wedlocked and Darkmouth Strikes Again