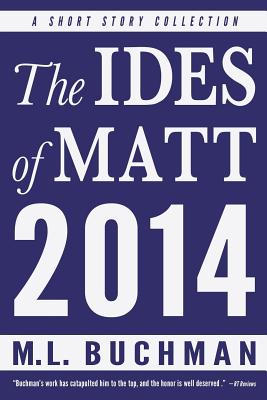 The Ides of Matt - 2014
Paperback

* Individual store prices may vary.
Description
A baker's dozen of short tales certain to tickle anyone's fancy. Each story includes an introduction written specifically for this volume.
In early 2014 I started writing short stories and publishing them for free on my website. I wrote science fiction and fantasy, stories both quirky and quaint. And then I wrote a story set in the military romantic suspense world of my popular novel series "The Night Stalkers." Fans raved and begged for more until in mid-year the "Ides of Matt" was born and a new, original short story launched on the 14th of each month.
Inside this volume I collected the first year's worth of short stories. Come join me as the Night Stalkers fly to the defense of deep space, as lonely souls sit in high mountain lookout towers and watch for forest fires, and as my writerly notions wander down varied and curious paths.
Buchman Bookworks, Inc., 9780692498460, 392pp.
Publication Date: October 11, 2015
About the Author
M. L. Buchman has over 40 novels in print. His military romantic suspense books have been named Barnes & Noble and NPR "Top 5 of the year" and twice Booklist "Top 10 of the Year," placing two titles on their "Top 101 Romances of the Last 10 Years" list. He has been nominated for the Reviewer's Choice Award for "Top 10 Romantic Suspense of 2014" by RT Book Reviews. In addition to romance, he also writes thrillers, fantasy, and science fiction. In among his career as a corporate project manager he has: rebuilt and single-handed a fifty-foot sailboat, both flown and jumped out of airplanes, designed and built two houses, and bicycled solo around the world. He is now making his living as a full-time writer on the Oregon Coast with his beloved wife and is constantly amazed at what you can do with a degree in Geophysics. You may keep up with his writing by subscribing to his newsletter at www.mlbuchman.com.