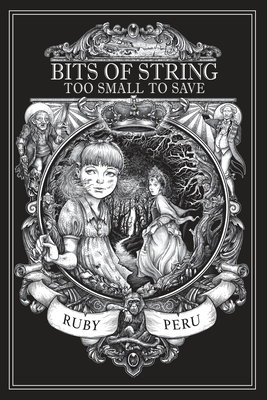 Bits of String Too Small to Save
Paperback

* Individual store prices may vary.
Description
Ruby Peru's freewheeling imagination enlivens her fantasy novel, Bits of String, tremendously. With a nod to Lewis Carroll, whose rabbit hole becomes her badger hole, Peru builds her narrative on an impressive array of colorful images, improbable characters and a generous helping of charm. --John Berendt, best selling author: Midnight in the Garden of Good and Evil, The City of Falling Angels
In her amazing debut novel, Bits of String, writer Ruby Peru boggles and seduces with her marvelous imagery, humor, and storytelling until you find yourself in the middle of an irresistible world populated with exotic and oddly familiar creatures human and otherwise-and before you know it you are entwined and delighted to be so. A "must read " for YA and adult readers alike. --Sarah Lovett, best-selling author: Dangerous Attachments
ElizabethAnn Von Earp never intends to leave the safety of suburban No Oaks, but when her eccentric grandmother peels around the corner in a jacked-up, pimped-out, original-orange International Scout and shouts that it's time to break the space/time continuum, they dive through a badger hole into Bumblegreen. There, ElizabethAnn joins forces with a cast of characters to save a forested dystopia from greedy watchmakers, toxic babies, and a particularly obnoxious Lothario. In this new world of seduction and betrayal, illusion and intuition, black arts and purple-speckled fruits, you, dear reader, must ask yourself, will magic avenge our heroine? Will technology save her? Or are ElizabethAnn and her gang of malcontents already too late to repair the beautiful, mysterious, and troubled land of Bumblegreen?
Pangloss Press, 9780692513453, 470pp.
Publication Date: May 15, 2017