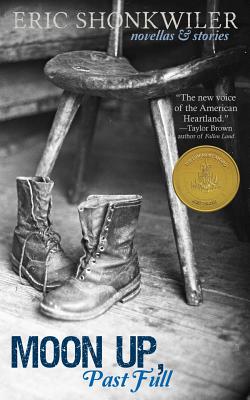 Moon Up, Past Full
Novellas & Stories
Paperback

* Individual store prices may vary.
Description
As Faulkner's voice portrayed the South and Breece D'J Pancake's represented Appalachia, Eric Shonkwiler captures the Midwest, with this collection of novellas and short stories that peels back the edges of rural existence to expose the heart of it. Through parental neglect, rebellious sons and daughters, drug-addled war veterans, backwoods zombies, injured firemen, car thieves, witch doctors, and Navajo ghosts, Shonkwiler brings you a disregarded world you can no longer ignore-one thriving with the mundane, the bruised, the unheard. Here is the voice of the rest of us, spoken only the way firsthand experience, rooted deep in overworked soil, can say it. Winner of the Luminaire Award for Best Prose "Shonkwiler's stories capture the rural experience rarely heard-the quiet, dangerous voices of the desperate, struggling for honor among thieves. A stark and timely slice of Americana gothic that both razes and rebuilds."
-Paula Bomer, author of Nine Months and Inside Madeleine "Shonkwiler has an eye for detail and a lot of heart that he places in each and every sentence to make his words leap from the page and stay with you long after they've been read."
-Frank Bill, author of Donnybrook and Crimes in Southern Indiana "God bless the hardscrabble elegance of Eric Shonkwiler's prose. These stories turn strangers into familiar faces. Battered souls and stoic hearts. Revenge, redemption, mercy. It's all here for the asking, like an emotional fire sale. Comparisons don't come easy with Shonkwiler's work. Few others measure up."
-Anthony Breznican, author of Brutal Youth "An engaging read."
-Kyle Minor, author of Praying Drunk Eric Shonkwiler is the new voice of the American Heartland. The stories in Moon Up, Past Full touch the scorched heart of the Midwest, and there is something deeply American in the telling, a directness that honors the cowhands and combat vets, single mothers and fatherless daughters, who grit their teeth and lean into those old hard winds."
-Taylor Brown, author of In the Season of Blood & Gold and Fallen Land Find out more about Alternating Current Press at http: //alternatingcurrentarts.com.
Alternating Current, 9780692528884, 252pp.
Publication Date: October 20, 2015