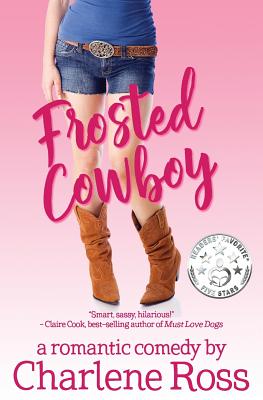 Frosted Cowboy (Paperback)
Velvet Morning Press, 9780692533949, 278pp.
Publication Date: February 6, 2016
Other Editions of This Title:
Paperback (3/30/2019)
* Individual store prices may vary.
Description
Fun and flirty Laney gives her life a complete makeover after her career and love life go down in flames. "Smart, sassy, hilarious." (New York Times best-selling author Claire Cook)
After Laney Delaney gets unfairly booted from her designer job at a bridal boutique and catches her fianc cheating, she drowns her sorrows in a Frosted Cowboy cocktail-and locks eyes with a sexy stud, Tom, at the bar. And then she meets hot fireman Jake and tepid-but-nice fireman Mike. Faced with a life full of fresh possibilities, Laney embarks on a new career path while stumbling through the L.A. dating scene.
Laney is on the verge of reinventing her life and finding her true passion. But the journey is full of embarrassing bumps, hilarious mishaps and wrong turns. Can Laney find her way and learn to believe in herself-with or without a sexy hunk by her side?
"A sweet, funny tale." - Publishers Weekly
"The perfect escape from life's monotonous treadmill." - Readers' Favorite (5 Stars)
Cheers Keep tabs on the Happy Hour RomCom Series:
Book 1 - Frosted Cowboy
Book 2 - Love on the Rocks (with Salt)
Book 3 - Tequila Slammer
Interview with the Author
What was your inspiration to write Frosted Cowboy?
In a writing class, the teacher had us pull an adjective and a verb from a hat. I got frosted and cowboy. "What the heck am I going to do with that?" I thought, so I just wrote, "'I'll have a Frosted Cowboy, ' I said to the bartender." I wrote two pages and turned it in; my teacher loved it and wanted more. So I developed it into the story of a woman whose Plan A didn't work out when she had never even considered a Plan B. At the time, my own Plan A was failing, and I had never really considered a Plan B. My story is nothing like Laney's, but I wanted to see where her story would go. As you'll see in the book, the Frosted Cowboy cocktail plays a part in Laney's story-and I even include the recipe for it at the end
It seems your book could fit into several genres. How would you categorize it?
Laney Delaney is a lovable heroine who finds herself in ridiculous dating and work situations, so I'd categorize it as chick lit or romantic comedy. There's a light-hearted romance and of course some sex, but I wouldn't say this is a sexy romance novel; more a romcom. Anyone looking for love or could use a laugh will enjoy this book
How is Laney's story different from other chick lit?
Wait, are you saying a chick lit heroine who catches her fianc cheating on her and then loses her job and has to start over again isn't original? I'm kidding of course. What sets Laney apart is she's sassy, yet not cool. I liked the idea of a fashion designer who was talented and creative, but not very fashionable. She's a fish out of water, but doesn't know how to jump in the pool, or even if she wants to. In business and in love, she's searching for her true passion and struggles to reconcile what she thinks she needs with what she thinks she wants.
Do you have any more books planned?
Yes. I don't want to say too much because I'm a bit superstitious, but I'm in the early stages of writing a book intersecting present-day lives of people who share a past. There might be a love triangle. And a little sex. And hopefully a lot of laughter.
Thanks for reading
About the Author
Before life in the LA suburbs, Charlene Ross backpacked through eighteen European countries, lived in London, worked in the music industry, and became engaged onstage at a U2 concert in Verona, Italy. (Bono even kissed her!) Now she drives carpool, embarrasses her children by dancing "in the pit" at free cover band concerts, and works hard at keeping the spark of her 20-year marriage alive.
or
Not Currently Available for Direct Purchase