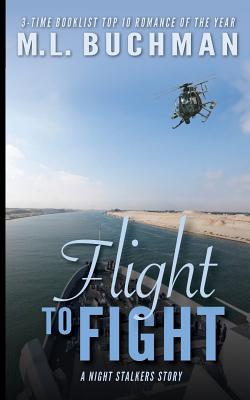 Flight to Fight
Paperback

* Individual store prices may vary.
Description
-a Night Stalkers romance story-
Sergeant Lee Adams flew a simple extraction mission along the Suez Canal: at night, into a friendly-power country, during a government-staged riot.
Donya Nakhla fought for her country, until they tried to kill her. Now she must escape to fight another day.
Neither knew that their lives would be forever changed as they joined in a Flight to Fight.
Buchman Bookworks, Inc., 9780692534014, 76pp.
Publication Date: September 13, 2015
About the Author
M. L. Buchman has over 40 novels in print. His military romantic suspense books have been named Barnes & Noble and NPR "Top 5 of the Year," nominated for the Reviewer's Choice Award for "Top 10 Romantic Suspense of 2014" by RT Book Reviews, and twice Booklist "Top 10 of the Year" placing two of his titles on their "The 101 Best Romances of the Last 10 Years." In addition to romance, he also writes thrillers, fantasy, and science fiction. In among his career as a corporate project manager he has: rebuilt and single-handed a fifty-foot sailboat, both flown and jumped out of airplanes, designed and built two houses, and bicycled solo around the world. He is now making his living as a full-time writer on the Oregon Coast with his beloved wife. He is constantly amazed at what you can do with a degree in Geophysics. You may keep up with his writing by subscribing to his newsletter at www.mlbuchman.com.