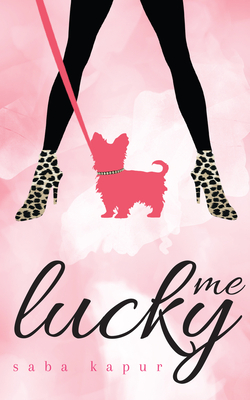 Lucky Me (Lucky Us) (Paperback)
Amberjack Publishing, 9780692536391, 446pp.
Publication Date: April 5, 2016
Other Editions of This Title:
Paperback (10/30/2018)
* Individual store prices may vary.
Description
For eighteen year old Gia Winters, having a movie star for a father, a former Playboy bunny as a mother, a Hollywood mansion, and a closet stocked with Chanel is simply another day in the life. But her world is turned upside down when her father mysteriously hires a group of bodyguards to trail the family 24/7 and threatening phone calls from a "Dr. D" start buzzing daily.
When Gia scores the coveted role of Miss Golden Globe, she is forced to strike a deal with her bodyguard, Jack, who is almost as arrogant as he is attractive. Juggling Gia's romantic failures, fashion faux pas, and celebrity obsessions, the duo investigate a series of clues with the help of a police cadet, who has a special set of skills and an even better set of dimples.
But with the Golden Globes just around the corner, danger levels rise higher than her stilettos as Gia learns that the biggest secrets might be the ones buried in her own home. In a place where the hills have eyes, high school nemeses, bad hair days, raging parties, and stolen kisses, there can only be trouble for a girl who was just starting to consider herself lucky.
About the Author
Saba Kapur is a 22-year-old author, currently living in Melbourne, Australia. Lucky You is her second novel, and the sequel to Lucky Me, which is an ode to her favourite things: fashion, romance and mystery.
Born in India, Saba spent her childhood in Indonesia and Kiev, Ukraine. She has recently graduated from Monash University with a degree in Criminology and International Relations. She is currently pursuing her passion in the field of criminal justice. 
In her spare time, Saba enjoys reading, laughing at her own jokes, and pretending she's Beyoncé. Her parents still won't buy her a puppy, but she's working on it. 
Praise For Lucky Me (Lucky Us)…
Gr 8 Up- Gia Winters, a high school senior in L.A., is living the high life. When Gia's movie star father informs the spoiled girl that she must have a bodyguard for protection, she is worried it will cramp her style. But the bodyguard, Jack, looks like a Calvin Klein model, and Gia is instantly attracted to him. Her father reminds her to keep the relationship professional. Besides, Gia has a boyfriend: pretty but dumb Brendan. In his duty to protect Gia, Jack has to go everywhere with her but- they must keep his true identity a secret. Acting as a family friend, Jack attends a raging party with Gia the first weekend on duty. There, Brendan is poisoned by a dumpling meant for her, and Gia starts to take the bodyguard business a little more seriously. Gia and Jack decide that they need to figure out who is after her, and the pair begin some reconnaissance. A series of stunts, disguises, and haplessly stumbled upon clues lead the pair to the LAPD, where Gia meets yet another attractive guy, named Milo. Meanwhile, Gia is nominated to be "Miss Golden Girl" (she gets to wear an amazing dress and hand the winners their awards), and she does not want anything to get in the way of her big break. While the plot deviates far from believability and the characters' motivations are not always clear, fans of chick lit will enjoy this light romantic mystery. VERDICT Add to YA collections in need of light beach reads- Tara Kehoe, New Jersey State Library Talking Book and Braille Center, Trenton.
- - School Library Journal
or
Not Currently Available for Direct Purchase