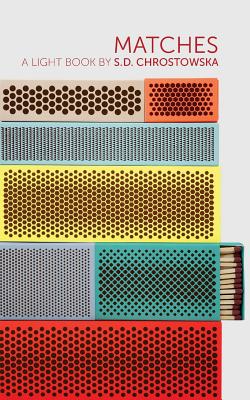 Matches (Paperback)
A Light Book
Punctum Books, 9780692540732, 540pp.
Publication Date: November 20, 2015
Other Editions of This Title:
Paperback (4/10/2019)
* Individual store prices may vary.
Description
It takes any number of forms. Epigrams. Aphorisms. Fragments. Sayings. Dicta. Sententiae. Facetiae. Pearls of wisdom. Fractions of truth. Maxims. Definitions. Jottings. Miscellaneous musings. Meditations. Ricordi. Pens es. Ephemera. Miniatures. Sketches. Vignettes. Denkbilder. Capriccios. Tiny 'fires without flames'...
In returning to these genres, Matches goes back to the drawing board of modern critique. It sets out to rekindle short-form literary-philosophical reflection, with roots in the Antiquity of Heraclitus and Hippocrates, apogee in the French moralistes (La Rochefoucauld, Pascal, Chamfort...), and late splendour in German letters (Nietzsche, Kraus, J nger...). Moving from art and aesthetics to philosophies past and present, through natural and technological landscapes, beneath the constellations of politics, history and ethics, along the byways of contemporary literary culture - the slow reader with a little spare time will not fail to be struck. Here are pages to peruse and mistrust, texts to think with, a book to put down and ponder, to ponder and put down. A tome to keep handy, handle often, and strike repeatedly against the rough patches of the mind.
"A must-read for aficionados of the fragment and literary critical experiments for the breadth of its subject matter and its style." -Alexander Kluge
"S.D. Chrostowska's Matches: A Light Book is a lambent marvel. The text interlaces a finely wrought poetic sensibility with a rare conceptual acuity. The literary beauty and philosophical rigor that permeate Chrostowska's apodictic constellation of fragments, aphorisms, and thought-images make her work a worthy heir to a tradition of transformative aphoristic writing and thinking that includes such masterpieces as Nietzsche's Human, All Too Human, Benjamin's One-Way Street, Adorno's Minima Moralia, Bloch's Traces, and Blanchot's The Writing of the Disaster. The many matches that the text lights never fail to illuminate - and in the process also to consume - the heterogeneous thoughts and experiences to which they attend. Chrostowska's high-wire literary performance reminds us that, in our administered world of techno-capitalist sameness, the last word may not yet have been spoken after all." -Gerhard Richter, Brown University
"An elegant and agile meditation on thinking, writing and reading in the twenty-first century. Chrostowska's sharp and original Matches will light readers' imaginations on fire and keep them burning long after they've put the book down." -Imre Szeman, Canada Research Chair in Cultural Studies, University of Alberta.
About the Author
S.D. Chrostowska, Associate Professor of humanities and social & political thought at York University in Toronto, is the author of two books - the novelish Permission (Dalkey Archive, 2013) and the historical Literature on Trial (Toronto, 2012) - as well as co-editor of a forthcoming collection on utopia and politics.
or
Not Currently Available for Direct Purchase