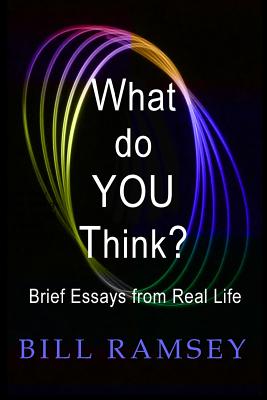 What do YOU Think?
Brief Essays from Real Life
Paperback

* Individual store prices may vary.
Description
What do YOU Think? Brief Essays from Real Life is a thought-provoking collection by author Bill Ramsey that explores contentious topics like sports, politics, news media, and technology, as well as daily life themes such as mirth and satire, friends and family - even Mother Nature. These well-thought-out pieces are written in a manner designed to be not only stimulating, challenging, and informative - but, above all, entertaining
EDITORIAL REVIEWS
"Because of his writing skill and thoughtfulness of the content, Bill Ramsey's 'What Do YOU Think?' elevates essay from the genre of a blog to a literature of joy. The reading is so pleasing it comes close to being a healing. Simply a splendid collection."
- Terry Kay, author of "To Dance with the White Dog" and "The Book of Marie"
"These short, succinct pieces challenge you to think-to ponder-issues large and small. Whether you respond 'Yes ' or 'Hmm?' or 'Not me, ' you'll remember and consider their point. Bonus: a pleasure to read." - Celia Miles, author of "The Body at Wrapp's Mill" and "Sarranda's Heart"
"Bill Ramsey is guilty of eroteme. Not once but repeatedly. He can't help himself. Even his title begins with 'What' and ends with a question mark, an eroteme. His book is original and sly, often going to wonderful and unexpected places." - John Shannon, reviewer.
Escarpment Press, 9780692546703, 254pp.
Publication Date: October 21, 2015
About the Author
Bill Ramsey began writing in high school as a sports columnist for the local newspaper. During his forty year professional career he wrote technical manuals, magazine articles, and business newsletters. In retirement, writing about real life issues became his passion. He is the author of four books, and publishes a blog at: www.billramseyblog.wordpress.com. He serves on the Board of Trustees for both the North Carolina Writer's Network and Blue Ridge Community College. He has also served on the leadership team of the Blue Ridge Bookfest since its creation in 2008. He lives the happy life of a retiree in the mountains of western North Carolina with his wife of fifty years, Donna. For more information about Bill Ramsey, as well as one-click access to his books, visit his website at www.authorbillramsey.com.