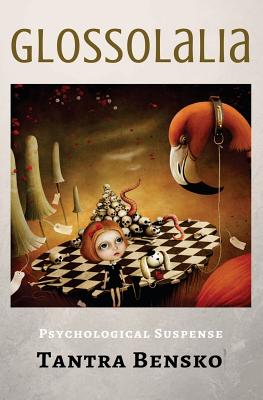 Glossolalia
Psychological Suspense
Paperback

* Individual store prices may vary.
Description
What if your subconscious determined the fate of nations?
SPIES AND POLITICS - CONSPIRACIES/ASSASSINATIONS ... No one but her uncle will hire Nancy, considering her habit of snapping out of amnesiac fugues, wondering how she got her bruises and the scent of men's cologne. When she sees a crime of poison in progress at her uncle's pesticide company, she chases the truck carrying away the chemical legally deemed too toxic to use or to dump. Her pursuit leads to more earthshaking discoveries than she'd imagined, in a convoluted world of international political intrigue and assassination, dark romance, esoteric occult rituals based on an Elizabethan spy code and CIA practices.
This political conspiracy suspense novel introduces a young woman with an ambiguous past involving herself in a killer organization with the engagement of one layer after another of her psyche. The Agents of the Nevermind series dares to explore the edgiest controversies and the complicated lives that disinformation-dispensing intelligence agents must endure as they create bizarre delusions in order to hide the uncomfortable truth about the financial foundation of their country's power.
Fights, chases, edgy sex, power to the people, twists and turns, secret rooms, missing time, and bold truth rarely found in novels until now.

This strong female protagonist introduces the Agents of the Nevermind, a propagandistic branch of intelligence performing esoteric social engineering and conspiracies to assassinate -- unless the gullible populace wises up and bravely resists the mind control. The Occult Revival in this series leads to unlikely heroes and dark romance. Heart-pounding entertainment illuminates our own reality.
"Glossolalia is a fast-paced, quirky book that lives up to its tagline of being a "psychological suspense thriller" while also being extremely fun to read. Bensko balances the heavy themes of abuse, mind control, nefarious companies that are destroying the environment, and government conspiracies with tongue-in-cheek humor and a surreal edge. I empathized with Nancy as she uncovered and dealt with the secrets of her past buried in her own head, and I laughed along with her when her gluten- and sugar-intolerant body insisted on eating desserts-and lusted after the handsome Julio. Glossolalia sparkles with Bensko's unique prose style, and ultimately left me feeling uplifted, even as I found myself thinking about the things we all might prefer to keep buried." -- Deborah Steinberg Fiction Editor, Rivet Journal and Red Bridge Press
Spy thrillers in the old cartoonish formula of good CIA VS bad guys no longer are fresh and relevant. It's time for the new wave of books unafraid of realism, such as we see in Barry Eisler's spy thrillers. But it can still be outrageously entertaining While everything in the book could occur, this novel also has an occasional dreamy atmosphere that has been compared to David Lynch films about corruption behind the scenes and the elite's surreal, disturbing sex rituals in Eyes Wide Shut. Please be aware that if you buy the used books, they're very possibly proofs, with the usual associated errors.
Insubordinate Books, 9780692551523, 246pp.
Publication Date: July 10, 2016
About the Author
Tantra Bensko, MFA, teaches fiction writing with UCLA Extension Writing Program, Writers.com, Writers College, and Tantra Bensko's Online Writing Academy.