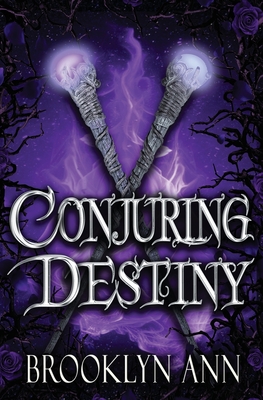 Conjuring Destiny
Paperback

* Individual store prices may vary.
Description
There's more than a prophecy holding them together ...Famous rock star, Xochitl Leonine, has dreamt of a world with two moons where a black cloaked man beckons her. One Halloween night, she meets the mysterious stranger of her dreams... literally... and their shared dance becomes a rendezvous in a place of endless night. Zareth Amotken has no idea how important Xochitl's heavy metal band is to her. As an immortal sorcerer, he doesn't care. He has one goal: to find the prophesied savior of his world. Her voice holds the power to bring back his world's vanished sun. Xochitl's compassion urges her to help in any way she can. Yet learning the mysteries of her past causes conflict with her future in music. Her destiny in his world and her obligations to her band pull her in opposite directions. How can she long for one while the other is so dire? As Zareth introduces her to his people and teaches her to control her powers, she aches for his enchanting kiss. Zareth tries to resist, for their passion will unleash serious consequences, both political and magical. As the time to fulfill her destiny draws closer, she must choose between her heart, her duty, and her friends. The wrong choice could ruin everything.But if Zareth's evil half brother succeeds in taking control of her for his own ends, he will take away her choices... and destroy the world. B1] If you're looking for a strange & magical fantasy romance, this book is for you From the bestselling paranormal romance author with over 1000 reviews and ratings of her romance books across Goodreads, Amazon and other retailers.
Broken Angels, 9780692552698, 364pp.
Publication Date: October 21, 2015
About the Author
Formerly an auto-mechanic, Brooklyn Ann thrives on writing romance featuring unconventional heroines and heroes who adore them. After writing historical paranormal romance in her critically acclaimed "Scandals with Bite" series and urban fantasy in her "Brides of Prophecy" novels, she now explores the chaotic realm of heavy metal music-- a difficult world to find love in. She lives in Coeur d'Alene, Idaho with her son, her cat, and a 1980 Datsun 210. She can be found online at http: //brooklynann.blogspot.com as well as on twitter and Facebook.