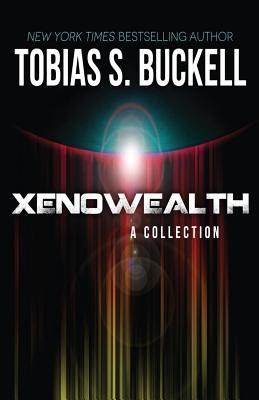 Xenowealth (Paperback)
A Collection
Tobias S. Buckell, 9780692553268, 202pp.
Publication Date: October 9, 2015
* Individual store prices may vary.
Description
High concept, adventurous science fiction stories featuring the beloved characters and settings from Tobias S. Buckell's popular Xenowealth novels.
Enjoy this fast-paced ride through a universe that has been many years in the making, accessible to both fans of Buckell's Crystal Rain, Ragamuffin and Sly Mongoose novels as well as first time readers. Xenowealth: A Collection includes stories like:
-The Fish Merchant: a glimpse at what first contact might be like from the perspective of those who will be battered by the fallout and geopolitical posturing. First published in one of science fiction's largest magazines and translated into multiple languages.
-Resistance: what happens when we hand over all our decision-making to algorithms and artificial intelligence? Can we let them vote for us? Should we?
-Necahual: an invading empire finds that not all is as it seems when it lands and gets a lesson about what both past and current occupation means.
-and including Ratcatcher, an all-new Xenowealth story written just for this collection.
Table of Contents
The Fish Merchant (first published in SCIENCE FICTION AGE)
Manumission (first published in BAEN'S UNIVERSE)
Resistance (first published in anthology SEEDS OF CHANGE)
A Cold Heart (first published in anthology UPGRADED)
The Loa (new to this collection)
Necahual(first published in CLARKESWORLD MAGAZINE)
Placa del Fuego (first published in CLARKESWORLD MAGAZINE)
The Rydr Express (first published in anthology THE NEW HERO II)
Ratcatcher (new to this collection )
How the Xenowealth Came to Be.
About the Author
Born in the Caribbean, Tobias S. Buckell is a New York Times Bestselling author. His novels and over 50 stories have been translated into 18 languages. He has been nominated for the Hugo, Nebula, and John W. Campbell Award for Best New Science Fiction Author. He currently lives in Ohio.