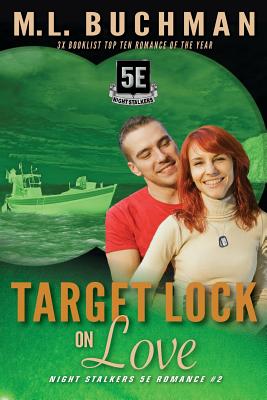 Target Lock On Love
Paperback

* Individual store prices may vary.
Description
-a Night Stalkers 5E romance-
MISSION: If Russia's newest drone flies, then their military may be unstoppable. To block them, the Night Stalkers 5E must deliver SEAL Team 6 to the Kamchatka Peninsula.
TEAM:
Chief Warrant Patty O'Donoghue
-- Left her home in Gloucester right where it belongs, in the best-forgotten past, to go fly her beloved Night Stalkers' helicopters.
Lieutenant Mick Quinn
-- Honors his past so deeply that he left his family's Alaskan crabbing boats to join the very best fleet he could find.
Fate takes them beyond the last island in the Aleutians and drops them down on a Russian fishing trawler. They must covertly breach the drone factory's security to disable them.
The falling in love part? For damn sure that was never in the mission plan.
Buchman Bookworks, Inc., 9780692553657, 252pp.
Publication Date: October 10, 2015
About the Author
M. L. Buchman has over 40 novels in print. His military romantic suspense books have been named Barnes & Noble and NPR "Top 5 of the Year," nominated for the Reviewer's Choice Award for "Top 10 Romantic Suspense of 2014" by RT Book Reviews, and twice Booklist "Top 10 of the Year" placing two of his titles on their "The 101 Best Romance Novels of the Last 10 Years." In addition to romance, he also writes thrillers, fantasy, and science fiction. In among his career as a corporate project manager he has: rebuilt and single-handed a fifty-foot sailboat, both flown and jumped out of airplanes, designed and built two houses, and bicycled solo around the world. He is now making his living as a full-time writer on the Oregon Coast with his beloved wife. He is constantly amazed at what you can do with a degree in Geophysics. You may keep up with his writing by subscribing to his newsletter at www.mlbuchman.com.