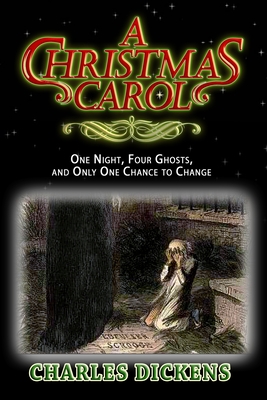 A Christmas Carol
Paperback

* Individual store prices may vary.
Other Editions of This Title:
Paperback (12/24/2015)
Paperback (12/8/2014)
Paperback (12/11/2015)
Paperback (11/17/2013)
Paperback (7/24/2016)
Paperback (2/17/2016)
Paperback (5/19/2014)
Paperback (8/10/2015)
Paperback (12/19/2014)
Paperback (12/24/2017)
Paperback (9/19/2017)
Paperback (11/25/2017)
Paperback (11/5/2015)
Paperback (11/21/2014)
Paperback (8/13/2014)
Paperback (10/19/2016)
Paperback (10/21/2016)
Paperback (9/25/2012)
Paperback (11/26/2016)
Description
Ebenezer Scrooge, a local business man, has earned the reputation of being a squeezing, wrenching, grasping, scraping, clutching, covetous, old sinner, and bitter old miser - and that's putting it nicely To top it off Scrooge hates Christmas, calling it "humbug." Scrooge reluctantly gives his overworked, underpaid clerk Bob Cratchit Christmas Day off with pay, and while doing so describes Christmas as "a poor excuse for picking a man's pocket every 25th of December "At home that night, Scrooge is visited by the ghost of his deceased business partner, Jacob Marley, who is forever cursed to wander the earth dragging a network of heavy chains, forged during a lifetime of greed and selfishness. Marley's purpose is to help Scrooge avoid the same ill fate. Marley tells Scrooge that he will be visited by three spirits - The Ghosts of Christmas Past, Present and Yet to Come, respectively. Each ghost in turn visits Scrooge to help him see the errors and consequences of his ways. And with the smallest glimmer of hope, perhaps they can revive the once forgotten sense of humanity and kindness that was once within him.
Noodle-Doo Studios, LLC, 9780692585078, 150pp.
Publication Date: November 20, 2015
About the Author
Charles John Huffam Dickens (Feb. 7, 1812 - June 9, 1870) was an English writer who created some of the world's best-known fictional characters and is regarded as the greatest novelist of his time. His works enjoyed unprecedented popularity during his lifetime, and by the twentieth century critics and scholars had recognized him as a literary genius. His novels and short stories enjoy lasting popularity. It is believed that many of Dicken's life experiences are represented in his writings. Born in Portsmouth, Dickens left school at the age of 12 to work in a factory when his father was incarcerated in a debtors' prison. Despite his lack of formal education, he edited a weekly journal for 20 years, wrote 15 novels, five novellas, hundreds of short stories and non-fiction articles, lectured and performed extensively, was an indefatigable letter writer, and campaigned vigorously for children's rights, education, and other social reforms. Dickens's literary success includes titles like DAVID COPPERFIELD, A CHRISTMAS CAROL, OLIVER TWIST, GREAT EXPECTATIONS, BLEAK HOUSE, HARD TIMES, LITTLE DORRIT and A TALE OF TWO CITIES