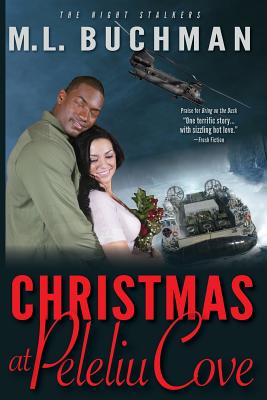 Christmas at Peleliu Cove (Paperback)
Buchman Bookworks, Inc., 9780692587720, 176pp.
Publication Date: November 23, 2015
* Individual store prices may vary.
Description
-a Night Stalkers Holiday romance-
NAME: Nika Maier / RANK: Petty Officer and hovercraft pilot / BELIEF: Merriness is against her religion, especially during the Christmas holidays
NAME: Clint Barstowe / RANK: Lieutenant, 75th US Rangers / BELIEF: There's nothing in the world as sharp as a soldier in a Santa hat
Nika's past lies safely buried in the bottom of her duffle, right down there with her interest in a lasting relationship. Clint swore off serious women after his first marriage, but his feet are swept out from under him by the 110-pound sailor who flies a 180-ton hovercraft. When a mission throws them together and they are cast onto a beach like driftwood in a storm, none of their training prepares them for what happens to their careful plans. When her past and his present collide, they must fight the battle together to win a merry Christmas at Peleliu Cove.
About the Author
M. L. Buchman has over 40 novels in print. His military romantic suspense books have been named Barnes & Noble and NPR "Top 5 of the year" and twice Booklist "Top 10 of the Year," placing two titles on their "Top 101 Romances of the Last 10 Years" list. He has been nominated for the Reviewer's Choice Award for "Top 10 Romantic Suspense of 2014" by RT Book Reviews. In addition to romance, he also writes thrillers, fantasy, and science fiction. In among his career as a corporate project manager he has: rebuilt and single-handed a fifty-foot sailboat, both flown and jumped out of airplanes, designed and built two houses, and bicycled solo around the world. He is now making his living as a full-time writer on the Oregon Coast with his beloved wife and is constantly amazed at what you can do with a degree in Geophysics. You may keep up with his writing by subscribing to his newsletter at www.mlbuchman.com.