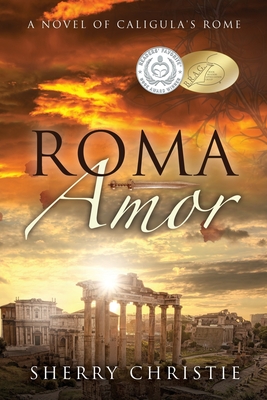 Roma Amor
A novel of Caligula's Rome
Paperback

* Individual store prices may vary.
Description
"Your turn, little brother," whispers a voice as Marcus Carinna rides past his family's tomb. Some uncanny presence also troubles the Germanic priestess Aurima, a rebellious captive his troops are escorting to Rome. But Marcus shrugs off the notion that it's a warning from his older brother, who killed himself when charged with treason. Hardheaded Romans don't believe in ghosts. And who could be uneasy in a city that's deliriously happy? The sour, distrustful old emperor is dead, and handsome young Caligula Caesar has become master of Rome. After surviving years of betrayal and mortal threat, he's now celebrating with lavish gladiatorial games and chariot races, affable speeches and generous handouts. Marcus's father, a Senator who helped Caligula succeed to the throne, knows that the deeply haunted new ruler needs to be steadied by a companion he can trust. Yet the suicide of the Senator's older son, groomed for the role, leaves only black-sheep Marcus. Despite Marcus's longing to avoid Rome's murderous politics, duty requires that he obey his ambitious father. But how can he forget his brother's death, or forgive Caligula, his brother's closest friend, for making no attempt to save his life? In this novel of 37 AD, which reviewers have called "a complete page turner," "beautifully written," and "a great read," Marcus will face a web of secrets, treachery, and vengeance that threaten his family, the woman he desires, even his life - and may bring chaos to the young Roman Empire. An outstanding portrayal of loyalty, honor, and hidden love, Roma Amor is a rich experience for readers who enjoy losing themselves in another world. PRAISE FROM REVIEWERS: "A complete page turner.... I found myself reading until two or three in the morning sometimes, unable to put it down" -- Historical Fiction Obsession "An epic story... filled with historical accuracy and vivid portraits of the brutality and duplicity of Roman life" -- Central Maine Newspapers "A story that captivates and enthralls.... Marcus is an amazing character, passionate, intelligent and fascinating" -- Book Lovers Paradise "Right up there with some of my favorite authors in the same genre like Kate Quinn and Ben Kane. I loved it " -- Bookfever "What a treat The details, the historical setting, the characters.... Can't wait for the next one in the series" -- Beth's Book Blog.
Bexley House Books, 9780692596326, 502pp.
Publication Date: April 13, 2016
About the Author
Vikings were the heroes of my first historical novel at age 11. They soon lost out to Romans, thanks to "Ben Hur" and "Spartacus." After earning a Phi Beta Kappa creative award in college for an early draft of ROMA AMOR, I spent many years of research and revision developing the story into the struggle between fathers and sons that it wanted to be. It's a joy to immerse myself in the lives of first-century Romans-and a definite change from my day job as a professional copywriter. I live on the coast of Maine with a native-born Viking and two cats.