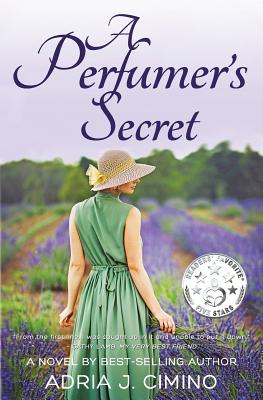 A Perfumer's Secret (Paperback)
Velvet Morning Press, 9780692603055, 292pp.
Publication Date: May 8, 2016
* Individual store prices may vary.
Description
Passion, rivalry and family secrets in the South of France... Zoe inherits a perfume scent that could be the key to revealing her mother's long-lost family and hidden past. It also might give her the edge she needs to win a prestigious fragrance contract-and defeat her rival, a passionate Frenchman named Philippe, once and for all.
But when the formula is mysteriously stolen, Zoe embarks on a life-changing quest to reclaim her legacy.
Set in the fragrant flower fields of Provence, the "wonderfully drawn cast of characters" (Anne Girard, author of Madame Picasso) in this "beautifully written" (Readers' Favorite) saga will send you on a sweeping trek across the South of France.
"Journey into a perfumer's world where lush French scenery, long-held family secrets, irresistible romance, and magnificent scents are brought to life." - Juliette Sobanet, best-selling author
Book club discussion guide included.
This novel can be read as a standalone or as part of the From Paris to Provence series. Each book in the series brings to life its own unique characters yet all books share the vibrant and captivating setting of France.
Interview with the Author
What was your inspiration to write A Perfumer's Secret?
When I visited France after college, I "discovered" perfume. It seemed so glamorous and French, and the creation aspect fascinated me. To create perfume is to be an artist-and art has always inspired me.
The aspect of an inheritance and the fact that this story takes place in France make your novel sound similar to both A Paris Apartment and The Perfume Collector. What unique treasures will readers find in A Perfumer's Secret?
My novel is a trip to Provence, set to the rhythm of scent. Zoe, the main character, is so passionate about perfume that she sees everything through that lens, offering a fresh perspective of the world around her. In the novel, you'll also find plenty of flower fields, sidewalk caf's, romantic walks along the coast... And there is the excitement of competition, as Zoe tries to win a major fragrance contract.
Would you call this a French romance book?
Yes, it's a South of France romance There are actually a few love stories in this novel: mother-daughter relationships, first love, friendship. But the most prominent is the romance between Zoe and Philippe, two perfumers whose passion for perfume turns into passion for each other.
What do you hope readers will take away from A Perfumer's Secret?
I hope readers will rediscover scent and how just a whiff can transport us to a feeling, a place, a discovery. And I hope they will enjoy this little trip to Provence and the world of perfume
So this book is part of a series?
Yes and no. Each novel in the From Paris to Provence series brings to life its own unique characters and can be read as a standalone, but all books share the vibrant and captivating setting of France:
- A Perfumer's Secret
- Paris, Rue des Martyrs
- Paris Jungle

If you like reading about passion, family secrets and romance set in France, you'll enjoy A Perfumer's Secret. Thanks for reading