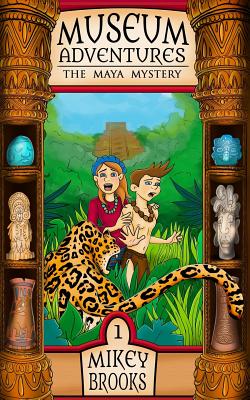 The Maya Mystery (Museum Adventures #1) (Paperback)
Lost Treasure Publishing, 9780692603987, 110pp.
Publication Date: January 9, 2016
Other Editions of This Title:
Hardcover (5/23/2016)
* Individual store prices may vary.
Description
Nick and Katie didn't sign up to go on an adventure. They didn't ask to be nearly killed by a jaguar, or hunt for ingredients under a volcano. They most certainly did not ask to be sacrificed by some crazy high priest at the top of a Mayan temple. But that is just what they got when they volunteered to help pack up boxes in the basement of their grandfather's museum ...well sort of. Grandpa had warned them not to go into the Special Collections room. He had said the room was too dangerous. Nick and Katie probably should have listened. Behind that forbidden door they found a time machine-a time machine cleverly disguised as a stone obelisk. As soon as they touched it, they are whisked back to the time of ancient Maya. Now Nick and Katie need to solve the mystery of how to get home or they just might be stuck in a time without electronics and indoor plumbing forever.
About the Author
Mikey Brooks is a small child masquerading as an adult. On occasion you'll catch him dancing the funky chicken, singing like a banshee, and pretending to have never grown up. He is an award-winning author of five middle-grade books and several more picture books. Mikey loves to daydream with four kiddos and explore the worlds that only the imagination of children can create. You can find more about him and his books at: www.insidemikeysworld.com.