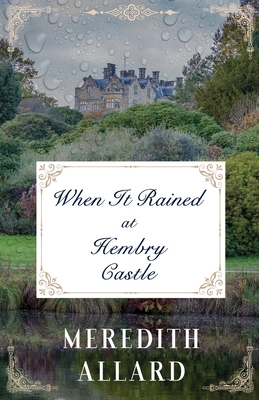 When It Rained at Hembry Castle (Paperback)
Copperfield Press, 9780692631409, 464pp.
Publication Date: January 28, 2016
* Individual store prices may vary.
Description
Missing Downton Abbey? Read When It Rained at Hembry Castle. From Meredith Allard, author of the bestselling Loving Husband Trilogy, comes a lush historical novel set in Victorian England. When It Rained at Hembry Castle is the story of an aristocratic family, secrets that dare not be told, and the wonder of falling in love. When the 8th Earl of Staton dies, his eldest son, the unreliable Richard, inherits the title and the family's home-Hembry Castle. The Earl's niece, the American-born Daphne Meriwether, is intrigued by Edward Ellis, a rising author with a first-hand knowledge of Hembry Castle-from the servants' hall. And Edward, though captivated by the lovely Daphne, has his own hurdles he must overcome. Can Richard come to terms with his title before bringing ruin on his family? Will Edward and Daphne find their way to each other despite the obstacles of life at Hembry Castle? When It Rained at Hembry Castle is a page-turning, romantic novel with vivid characters and an engrossing story that will keep you guessing until the end.
About the Author
Meredith Allard is the author of the bestselling historical paranormal novels The Loving Husband Trilogy. Her other novels include That You Are Here, Victory Garden, and Woman of Stones. She lives in Las Vegas, Nevada. Visit Meredith online at www.meredithallard.com.
or
Not Currently Available for Direct Purchase