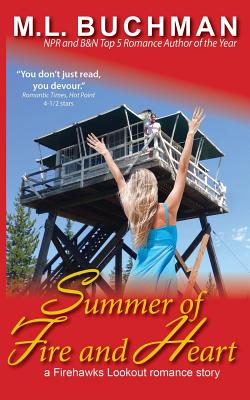 Summer of Fire and Heart
Paperback

* Individual store prices may vary.
Description
-a Firehawks Lookout romance story-
Quite how Ashley Mason made the journey from rural Kansas to working atop a lookout tower in the Montana wilderness eludes her. This summer's challenge: coping with isolation.
Brent Tucker dedicates every summer to learning something new. In the past he pursued competitive swimming and ballroom dancing. This summer's goal: to master hang gliding.
This year they both will learn more than they bargained for during the Summer of Fire and Heart.
Buchman Bookworks, Inc., 9780692643518, 72pp.
Publication Date: February 12, 2016
About the Author
M. L. Buchman has over 40 novels in print. His military romantic suspense books have been named Barnes & Noble and NPR "Top 5 of the year" and twice Booklist "Top 10 of the Year," placing two titles on their "Top 101 Romances of the Last 10 Years" list. He has been nominated for the Reviewer's Choice Award for "Top 10 Romantic Suspense of 2014" by RT Book Reviews. In addition to romance, he also writes thrillers, fantasy, and science fiction. In among his career as a corporate project manager he has: rebuilt and single-handed a fifty-foot sailboat, both flown and jumped out of airplanes, designed and built two houses, and bicycled solo around the world. He is now making his living as a full-time writer on the Oregon Coast with his beloved wife and is constantly amazed at what you can do with a degree in Geophysics. You may keep up with his writing by subscribing to his newsletter at www.mlbuchman.com.