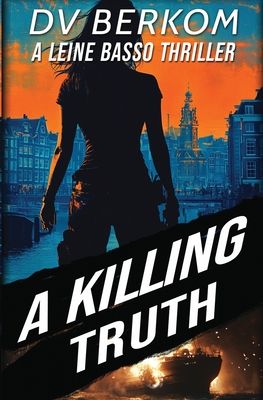 A Killing Truth
A Leine Basso Thriller Prequel
Paperback

* Individual store prices may vary.
Description
A deadly assassin. A perpetual target. A double-cross she never saw coming...
They say the truth will set you free, but what if it kills you first? Before serial killers and drug cartels, Leine Basso faced the ultimate betrayal...
Leine eliminates terrorists for a living. After a routine assassination almost gets her killed, she chalks it up to a fluke. Her lover and fellow assassin, Carlos, has another idea altogether. He thinks their boss is setting them up for a fall.
When Carlos goes missing and a bombing thwarts another mission, Leine suspects the stakes are far higher than she could ever imagine, and wonders if the man in charge might have it in for her after all.
A Killing Truth is the prequel to the award-winning Leine Basso thriller series of crime novels. If you like no-nonsense heroines, page-turning plots, and twists you won't see coming, then you'll love D.V. Berkom's tension-filled series.
Praise For A Killing Truth: A Leine Basso Thriller Prequel…
"[Leine Basso] is a sassy, kick-arse, no-nonsense, I'll-eat-your-balls-for-breakfast type of woman. She simply rocks. Berkom's books are ones when you almost forget to breathe. They're fast-paced, taut with tension and sheer joy from start to finish." ~Cath'n'Kindle Book Reviews

"The chilling prequel to D.V. Berkom's Leine Basso thriller series, [A Killing Truth] introduces one of modern fiction's deadliest heroes..." ~Reviewer Charles A. Ray

"A Killing Truth would make an excellent introduction to D.V. Berkom's writing...she's one of my favorites... love how she just puts you right in the pages and you just don't want to end." ~Hornfan2

"The Leine Basso series by DV Berkom is jam-packed with action and adventure and Leine Basso is one bad*** protagonist..." Fundinmental Book Reviews
Duct Tape Press, 9780692659618, 170pp.
Publication Date: March 19, 2016