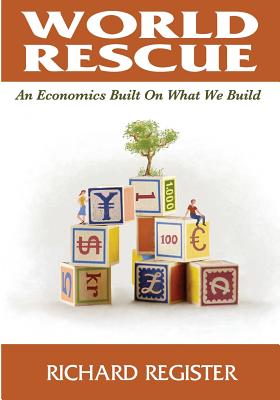 World Rescue
An Economics Built on What we Build (Black and White)
Paperback

* Individual store prices may vary.
Other Editions of This Title:
Paperback (2/25/2016)
Description
BLACK AND WHITE VERSION Climate change? Biodiversity collapse? Failed states proliferating? Design yourself Build our future Richard Register's new book takes off and goes right to the physical foundations of society, built on biology, built on planet Earth, bathed in the sun's life-giving glare. Nature's economics is the foundation for human economics, he says, and survival and thriving hangs in the balance. There is good and bad in both capitalism and socialism - choose the best from both. Harmonize, don't demonize, either of them. Let nature's economics be the guide. The economics of sunshine on chlorophyll, to food, to fossilized fuel, to our machines, to our cities defines a new economics of thriving with fresh perspectives in a new path to... self-help for people and other living forms that depend on us to get ourselves far better organized and launched into action. Go for it - before it's too late. This book confronts our nature-suffocating numbers, our agricultural system, our built environment of cities, towns and villages. It shows how generosity and hard work can rescue pretty much everything. Can we come through our present day crises and prosper? Yes, if... The "if we..." is answered here in dozens of powerful proposals mingling with promising steps already headed in the right direction if we... And the "ifs" are helped along with lots of good old, every day practical advice. The result? Clear vision for action and genuinely healthy thriving on the other side of today's crises.
Richard Register, 9780692659984, 416pp.
Publication Date: March 7, 2016
About the Author
Richard Register grew up in New Mexico under the shadow of the mushroom cloud, knowing some designers of the hydrogen bombs, the end of the world. So naturally he has been concerned with how to turn that around. He built sculpture for the sense of touch (maybe we could get back "in touch"), started a peace group called No War Toys (wondering what the influence of encouraging little boys to pretend to kill their friends for fun might have on human propensity to war). Later he decided to focus on ecologically healthy cities because, after all, they are big. The biggest most environmentally consequential things we build in fact. So we better build them right. Doing so begins to define a new economics and new relationship to ecology and evolution. So it seems he's something of a fanatic for trying to shape us up to rescue the world. If we can strive to understand the universe and dream of life everlasting, either for individuals or for life itself collectively, why not? That's what he thinks. So his profession evolved to suggestion for means of survival and thriving. He lives in Oakland, California.