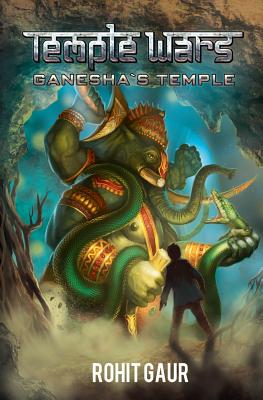 Ganesha's Temple (Paperback)
Book 1 of the Temple Wars
Rohit Gaur Studios, 9780692663783, 282pp.
Publication Date: April 2, 2016
* Individual store prices may vary.
Description
"I will help you prepare yourself for the dangers that lie ahead."
Those words and Lord Ganesha's appearance in a dream ring ominously in fourteen-year-old Tarun Sharma's mind as he and his family travel to a festival celebrating the elephant-headed god.
Tarun, the son of Kashmir's chief minister, soon experiences his first taste of danger when terrorists attack the festival. He flees into the wilderness and takes shelter in a cave-where he meets Ganesha and discovers the deity needs his help.
Thus begins a journey into a mystical spirit world full of strange creatures and infused by the life-giving power of prana. Tarun must travel into the spirit world to return to Ganesha what's his. But the clock is ticking as he struggles to avoid the evil Serpentine and races to complete his tasks. If he fails, the disastrous consequences will spill out of the spirit world and devastate the Earth.
Travel with Tarun on an odyssey of epic importance in Rohit Gaur's Ganesha's Temple, the first book in the Temple Wars series. It's a fantasy adventure with a message that will inspire as a young boy discovers the strength and courage he needs to persevere.
About the Author
Serial entrepreneur Rohit Gaur is fueled by his passion of building brands, and the core of any great brand is story. His brands include Gaur Spice Whiskey and the Gaur Hotels located in the United States and India. Rohit has written, directed, and acted in many independent films and enjoys both the artistic and business side of filmmaking. He is the founder of Artisna.com - the artisan marketplace, Perfumora.com - the scents marketplace, and other tech startups. Temple Wars has been a five-year passion project for Rohit. Throughout the years, he has developed the business and storytelling techniques needed to make the Temple Wars series into a thrilling multimedia franchise."