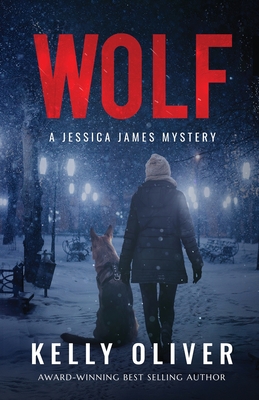 Wolf (Paperback)
A Suspense Thriller (Jessica James Mystery #1)
Kaos Press, 9780692685358, 316pp.
Publication Date: May 20, 2016
* Individual store prices may vary.
Description
What if the teacher you hate wound up ... murdered?
What if you and your slacker friends found his body?
What if it became a race against time to find the killer before he found you?
If you like your sleuths fierce, funny and female, award-winning author Kelly Oliver has a treat for you.
Independent Publisher's Award Winner for Best Mystery/Thriller
Foreword Magazine Award Best Mystery Finalist
Amazon Bestseller
Philosophy student Jessica James just wants to defend her thesis and earn her degree. Instead, she finds her professor dead in a bathtub, her thesis marked for rejection, and leaves enough clues at the murder scene to make her a suspect.
Before she can say, 'What doesn't kill you sends you to therapy, ' the mob gets involved and it's up to Jessica and her ragtag posse of friends - Amber the tech-savvy hippie, Jack the wisecracking stoner, and Lolita the seductive poker 'Tsarina' - to catch the killer before Jessica becomes the next victim.
Are the murder and Jessica's thesis connected?
Why was Jessica's thesis rejection post-dated?
And what do two expensive Russian paintings have to do with it?
Smart, capable women shine in this gripping murder mystery where Girl Power meets Mobster Grit.
A witty and engaging whodunit, with a "cowgirl philosopher" who's part V.I. Warshawski and part John Wayne... fast-paced and thoroughly engaging whodunit. --Kirkus Reviews
"Fast paced and full of fascinatin gcharacters...Jessica is a heroine readers will root for." --BookLife Prize for Fiction
"Entertaining, fast, and refreshing mix of murder, greed, philosophy, mystery, and woman power....very funny yet profoundly dark."-- Foreword Magazine
Nobody tops Kelly Oliver for delivering fast-paced narrative, quirky characters, and a plot as twisty as a bucking bronco--all of this leavened with Oliver's trademark wry humor. --Caroline Taylor, author of Loose Ends and The Typist
Mystery, Suspense, Action, Adventure, Romance, and Laugh-out-Loud Humor. What more could you want in a page-turner? A riveting suspense novel that keeps you guessing until the end.