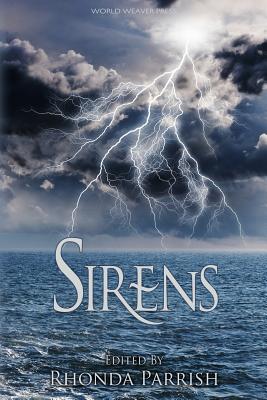 Sirens
Paperback

* Individual store prices may vary.
Description
Sirens are beautiful, dangerous, and musical, whether they come from the sea or the sky. Greek sirens were described as part-bird, part-woman, and Roman sirens more like mermaids, but both had a voice that could captivate and destroy the strongest man. The pages of this book contain the stories of the Sirens of old, but also allow for modern re-imaginings, plucking the sirens out of their natural elements and placing them at a high school football game, or in wartime London, or even into outer space. Featuring stories by Kelly Sandoval, Amanda Kespohl, L.S. Johnson, Pat Flewwelling, Gabriel F. Cuellar, Randall G. Arnold, Michael Leonberger, V. F. LeSann, Tamsin Showbrook, Simon Kewin, Cat McDonald, Sandra Wickham, K.T. Ivanrest, Adam L. Bealby, Eliza Chan, and Tabitha Lord, these siren songs will both exemplify and defy your expectations.
World Weaver Press, 9780692687208, 286pp.
Publication Date: April 23, 2016
About the Author
Rhonda Parrish is driven by the desire to do All The Things. She was the founder and editor-in-chief of Niteblade Magazine, is an Assistant Editor at World Weaver Press, and is the editor of several anthologies including, most recently, Sirens and C is for Chimera. In addition, Rhonda is a writer whose work has been included or is forthcoming in dozens of publications including Tesseracts 17: Speculating Canada from Coast to Coast, Imaginarium: The Best Canadian Speculative Writing (2012 & 2015), and Mythic Delerium. Her website, updated weekly, is at rhondaparrish.com.