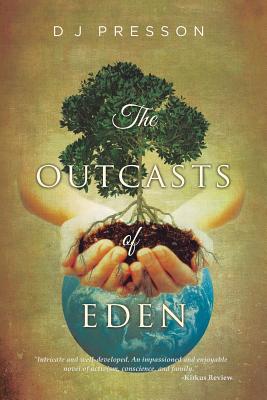 The Outcasts of Eden
Paperback

* Individual store prices may vary.
Description
Roberta Prescott Reed is both her father's namesake and his nemesis, and has been diametrically opposed to everything her father stands for in his business practices at Reed Public Relations for as long as she can remember. From her first impulsive and very public stand against him chained to a tree in a mud-spattered old growth forest in Oregon, she has devoted her life to countering the disinformation her father and his firm, representing the most egregious and corrupt polluters on the planet, disseminates to discredit the environmental movement. After ten years on opposite sides of every environmental issue, his sudden death in 1994 turns her life upside down when she, his business partners and his clients, are shocked to learn that Robert Reed, in his Last Will and Testament, names her CEO of Reed Public Relations. With her friends by her side, brothers Evan and Steven Manning, and her best friend Summer Sparrow, a new generation of leaders takes the reins at RPR, a generation who possess a deep reverence for the tiny blue planet we call home and feel that environmental activism must be a top priority of every business. She makes it her mission to bring her father's clients, now her clients, into a 21st century mindset of true corporate environmental responsibility. Not only must she counter the attitudes of her father's generation, but she must match wits with her cousin David Reed, the acolyte and presumed heir apparent at the firm who seethes with anger and conspires against her leadership, and her explosive and passionate French lover, Michel Manon, an award-winning environmental photojournalist, who continually reminds Roberta of the suffering that nature endures at the hands of the companies she represents. In the final, dramatic conclusion on the beaches of the south of France amidst a catastrophic environmental disaster caused by one of her clients, she learns a bitter lesson as she is forced to come to grips with the evil her father has unleashed on the world. From the corridors of power in Washington, D.C to the sophisticated shores of the Cote d'Azur, The Outcasts of Eden is filled with complexity and unexpected surprises, and tells the moving and powerful story of the opposing forces of environmental activism and business, and the generational shift in thinking as the movement struggled to become accepted as an essential and expected part of doing business around the world.
Kwill and Keebord Publishing, LLC, 9780692715598, 308pp.
Publication Date: July 1, 2016
About the Author
D J Presson lives in the Blue Ridge Mountains of North Carolina. She joins a short but impressive list of literary late bloomers, beginning her writing career in her fifties, after a long and successful career in business. She is the author of The Outcasts of Eden and The Broker, and is busy working on her third novel, The Heritage, due out in the spring of 2017.