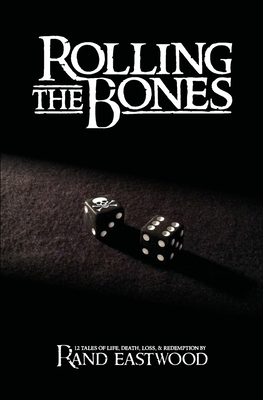 Rolling the Bones (Paperback)
12 Tales of Life, Death, Loss, & Redemption
Woodlands Press, 9780692716205, 490pp.
Publication Date: June 16, 2016
* Individual store prices may vary.
Description
Sometimes we win Sometimes we lose But every day We roll the bones Enter Eastwood's dark world of subliminally interconnected stories and novellas, nearly 500 pages of the strange, psychological, paranormal and otherly... The stories are highly character-driven: everyday people, dealing with everyday life--but experiencing extraordinary circumstances and/or strange phenomena along the way; and there's something for everyone--ghost stories, horror, psychological suspense, weird/twilight zone, coming-of-age, sexual deviance, drama--it's all in there Rolling The Bones is an intellectually stimulating and thought-provoking read; with psychological and/or supernatural elements keeping the reader guessing, all the stories subliminally interconnected and spanning multiple genres, and the entire work steeped in an intellectual ambiance--it's not just a book, it's an experience Pick up your copy of Rolling The Bones today, and embark on a fascinating, dark (and sometimes disturbing) journey... The Stories: - The Traveler (First Place, international short fiction competition): A succesful lawyer is up for a big promotion; bored with his small-town life, and with his marriage on the rocks, he decides to chuck it all in favor of "the good life." But when he encounters a mysterious stranger on his way out of town, everything suddenly spins out of control, and he must think and act quickly, or risk losing his life--in more ways than one... - Forever Anna Day (novella): A lonely old man, having lost everything, is living out the last of his days in a tiny, seedy apartment surrounded by memories of his life, and facing a dismal future in a nursing home...until a sudden crisis unfolds in his apartment building, enabling him to perform one last heroic deed-and in the process, win the love his long-lost, beloved Anna once again... - The Crossing (novella): Adult life is about to be thrust on a young boy living in a small town, essentially ending his childhood and his boyhood adventures with his best friend. But the nearby haunted Black Woods beckon, and the old rope bridge that crosses the canyon by the woods offers him an escape--and what he does will mark his name down in history forever. Reminiscent of Stephen King's novella The Body (film Stand By Me)... - Request Denied (reader favorite): A hard-working, successful businessman discovers a petty thief burglarizing his home--but when he confronts the deadbeat, he discovers that things are more complicated than they first seemed, and suddenly the tables are turned... - CATS (not the musical) (Finalist, Writer's Digest Annual Writing Competition): One cat can be a cuddly companion...five cats can be a nuisance...but a sea of cats is something else entirely Love 'em or hate 'em, you'll never look at cats the same way again--especially when they are quietly looking back at you... - A Sweet Ride (reader favorite): One night a lonely, struggling writer is stuck with sudden, unexpected inspiration, and the next morning sets about hammering out his "magnum opus." So sure is he of success this time--no way anyone will reject this manuscript--that when he's finished he decides to celebrate by taking the ride of his life with his newly-acquired "dream-machine." But where he goes, and what he does next, is even more unexpected... - Roughing It (novella): Two young couples plan a camping trip together, up in the secluded mountain woods, for a weekend of booze, partying--and of course, sex--in the Great Outdoors. But when one of them stumbles onto something entirely unexpected in the middle of the night, dark memories from the past are triggered, and the weekend quickly turns from terrific to horrific... Find out what lies in store with these tales and others such as Hell or High Water, A Bearable Darkness of Being, The Calling, This Old House, and Chambers-pick up your copy of Rolling The Bones today.
About the Author
Rand Eastwood is an award-winning author, blogger, philosopher, graphic designer, and drummer residing in beautiful Las Vegas, Nevada. He is currently working on his first novel, along with several new works of short fiction. Visit his website: www.randeastwood.com