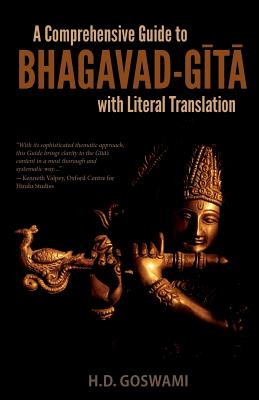 A Comprehensive Guide to Bhagavad-Gita with Literal Translation (Paperback)
Krishna West, Inc., 9780692761717, 236pp.
Publication Date: October 1, 2016
* Individual store prices may vary.
Description
In the late 18th century Bhagavad-gita became the first Sanskrit work to be rendered in a European tongue, and since that time it has generated countless translations and secondary analyses. Among these, however, H.D. Goswami's Comprehensive Guide with Literal Translation excels in its capacity to schematize and summarize the Gita's powerful appeal as a source of perennial wisdom. With its sophisticated thematic approach, this Comprehensive Guide brings clarity to the Gita's content in a most thorough and systematic way, inviting both first-time and seasoned readers to vigorously engage with the text while enjoying the rewards of deep understanding. Especially impressive is the fact that this volume not only provides the reader with a stimulating learning experience, but also serves as an exceptional reference book for specific topics. Concise yet thorough, this skillful exposition, containing hundreds upon hundreds of key Gita references, affords a conceptual window into the core elements of Krishna's teachings to Arjuna. Throughout this work we are graced by the knowledge, Sanskrit expertise and personal illuminations of one who is not only a highly trained scholar, but also a widely experienced spiritual teacher.