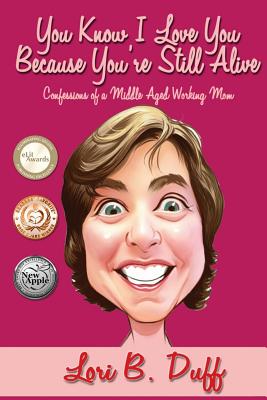 You Know I Love You Because You're Still Alive
Confessions of a Middle Aged Working Mom
Paperback

* Individual store prices may vary.
Description
Lori B. Duff, a recovering lawyer/writer/wife/mother/tired person follows up her hilarious best selling books, "Mismatched Shoes and Upside Down Pizza" and "The Armadillo, the Pickaxe, and the Laundry Basket" with her third collection of essays, the New Apple, eLit, and Readers Favorite award winning "You Know I Love You Because You're Still Alive: Confessions of a Middle Aged Working Mom." Lori's relatable and witty stories about every day life will have you snorting with laughter while nodding in recognition. Here's what other authors have to say about her: "Lori Duff fully admits to having a high tolerance for shenanigans and an inability to feel shame while making a fool of herself. Those traits combine to make a hilarious, and sometimes tender, book full of stories about a modern mother and her ever-challenging life....Lori's quick wit and charm will definitely win you over." - Keith Stewart, author of Bernadette Peters Hates Me "Take a peek inside Lori Duff's hectic but happy life and realize you're not alone in trying to balance work, family, marriage and home. With hilarious anecdotes and brutal honesty, she finishes her legal work while making chicken soup and leaves to chaperone a student trip to the Hotel of Doom. Laughing with Lori could become a welcome habit." - Elaine Ambrose, author of Midlife Cabernet and Midlife Happy Hour "About halfway through this book I realized that Lori Duff is saying a lot of smart and true and salient things WHILE she's making me laugh out loud until my stomach hurts." - Mary Patterson Thornburg, author of The Kura and A Glimmer of Guile "If Erma Bombeck and Andy Rooney had a secret love child and she grew up to be a writer, it would be Lori Duff. Enjoy this funny, sweet, ironic collection of essays." --Heather J. McAdams, author of Desolation Sound "Duff embraces her middle-aged, working-mom role with gusto and Erma Bombeck-esque humor in her latest sidesplitter, a page turner that'll have you shaking your head in agreement one minute; laughing your head off the next." - Allia Zobel Nolan, author of Women Who Still Love Cats Too Much "Lori Duff's essays get to the point quickly....She speaks for many other working middle-aged moms who "only want to be left alone" and are certainly "too old for overtime." Duff's book is heartfelt, laugh-out-loud funny and ends with this sage advice: "Forgiving is healthy. Forgetting is for fools." - Gianetta Palmer, author of Reflections on a Middle Aged Fat Woman "Whether she's inventing hysterical television game shows for couples, creating witty public service announcements, drafting the new Bill of Parents' Rights, or imparting her famous chicken soup recipe in amusing narrative form, Lori Duff's uproarious voice-of-reason will resonate long after you've read her cover-to-cover." - Stephanie D. Lewis, author of Lullabies & Alibis.
Lori Duff Writes, 9780692775653, 194pp.
Publication Date: October 4, 2016
About the Author
Lori B. Duff is a National Award-Winning columnist and the author of "Mismatched Shoes and Upside Down Pizza," "The Armadillo, the Pickaxe, and the Laundry Basket," and "You Know I Love You Because You're Still Alive." She's also an unrepentant proponent of the Oxford comma and two spaces after a period. In her spare time, she practices law, raises two teenagers and a husband, and does a lot of deep breathing.