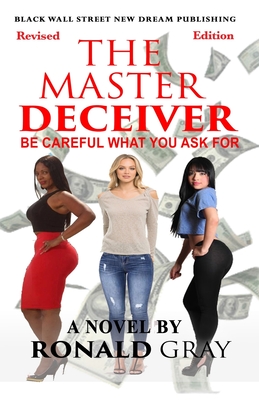 The Master Deceiver Be Careful What You Ask For
Paperback

* Individual store prices may vary.
Description
REVISED EDITION 06/21/2021 James and Sherry Richardson are a wealthy married African American couple with six children living in Raleigh North Carolina. James is a pastor and a professional gospel singer. Sherry is the owner of a large Lexus car dealership. Sherry and four of her children have an overwhelming desire to achieve their dreams but refuse to wait on the Lord to bless them. Unbeknown to each other they visit a powerful root worker in South Carolina name, Doctor Eyes. Sherry and the four children receive what they so desperately desire. But what the devil gives you, he can also take away. What price will they pay? Sex, violence, money, aids, cancer, rape, murder, abortion, virginity loss, and the death penalty shakes this family to the core. Trust will be betrayed, honor will fall and the spirit of deceitfulness will move rampantly one to another. Because no one dances with the devil, for free Who will pay?
Black Wall Street New Dream Publishing, 9780692782385, 296pp.
Publication Date: September 9, 2016
About the Author
Ronald Gray was born in Washington, D.C. and attended high school in Maryland. After a short time in the military, and living in various states, he ended up back in Maryland where he presently lives. He enjoys reading, traveling, and weight lifting. Discovering writing as his blessing and passion, Gray looks forward to waking up just to write. This led to the formation of Black Wall Street New Dream Publishing. This is his first book, but hardly his last. Some people write stories from their imagination, but Gray has lived many of the experiences he writes about. He knows what it is like to do supernatural things by the forces of darkness, to walk in the awesome pow-er of God, and to see the so called impossible become instantly possible.... Miracles! Through this, he strives to be what God has called him to be. He refers to God as "King Jesus." Get ready to be emotionally and spiritually blown away by his forthcoming books and movies that will affect so many people in a positive way. You will see yourself as one of the characters in every story. His stories are for people who want the raw uncut truth. This is the world we live in! Please visit the company website www.myproviderproductions.com Thank you.